Submitted by

Matt Winans

on Thu, 11/07/2013 - 17:49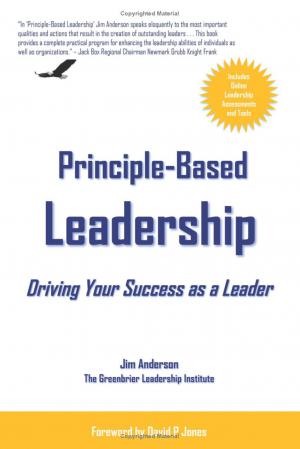 Principle-Based Leadership by Jim Anderson is now available for purchase in the Cadet Store in Hard Cover.
"In 'Principle-Based Leadership' Jim Anderson speaks eloquently to the most important qualities and actions that result in the creation of outstanding leaders… This book provides a complete practical program for enhancing the leadership abilities of individuals as well as organizations." – Jack Box Regional Chairman Newmark Grubb Knight Frank
About the Author:
Jim Anderson has coached and developed hundreds of leaders and professionals in Fortune 500 Companies and public sector organizations since 1980. He has conducted countless seminars and professional development programs on leadership, management, professional success and related topics as well as served on the faculty within the Michigan State University Graduate School of Business and the University of Colorado in Boulder. Jim is co-founder of the Greenbrier Leadership Institute, GreenbrierLeadership.com, in Lewisburg, West Virginia. He also founded MSR Corporation, an executive managementconsulting business in 1980 operating in Colorado. Jim and his family reside in the Denver area.