Submitted by

Matt Winans

on Sun, 05/24/2020 - 10:47
Hello to all GMS Alumni & Friends,
I am happy to announce as of today (May 24th, 2020) that 50 years of GMS yearbooks are now available for FREE VIEW on our website!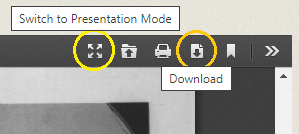 I hope many of you find pleasure in viewing these archives of history as I certainly did in the process of optimizing, stabilizing & cropping all 4,289 total pages from a dark microfilm state. Each yearbook has been carefully lightened with level & curve adjustments for easier visibility. As seen in this photo, the PDF reader allows for the PDF to be downloaded if you'd like to keep a copy for yourself. Also, to view the yearbook in full screen, click the "Presentation Mode" button above the reader.
A huge thanks also goes to Mike Ruth '69 and our museum curator, Mary Essig, for making this yearbook project possible!
Ready to check it out? View them under the Cadets dropdown, select "'Brier Patch' Yearbooks!"
Enjoy,
Matt Winans
GMSAA Webmaster