A TRIBUTE TO "HERB"
JAMES HERBERT PEARIS
A GREENBRIER MILITARY SCHOOL LIVING LEGEND
CLASS OF 1956
by
James Edward "Deak" Roberts Jr.
September 2019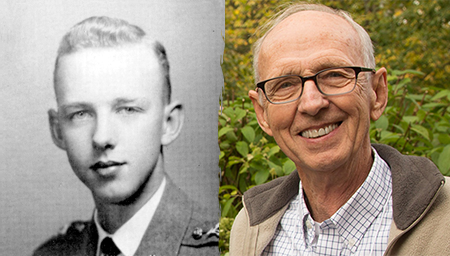 What is it that makes a man do what he does?   I have long been a believer in some things happen because they are meant to.   You know, happenings like Washington crossing the Delaware on Christmas night 1776 to defeat the Hessians (German Mercenaries working for the British) at Trenton, NJ.   This gave the Americans a much needed Victory and stores for the winter.    Would just any General have done this?   I think not.   Washington was not just any General, but more than that, it was important for this attack to succeed.    I think it was meant to be, and it probably saved the Continental Army from defeat. 
General Washington Crosses Delaware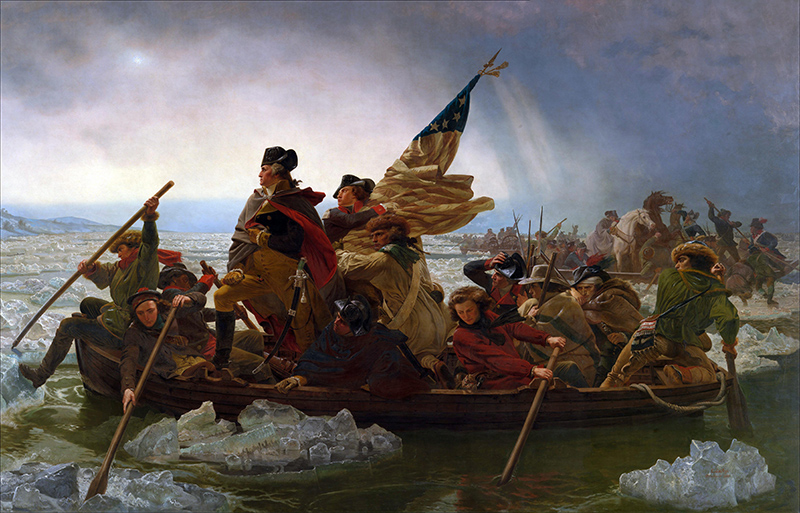 Then there was MacArthur's return to the Philippines.   The Japanese had overwhelming forces at the beginning of the War.   This caused McArthur to leave his beloved Philippines.   But as he left, he said: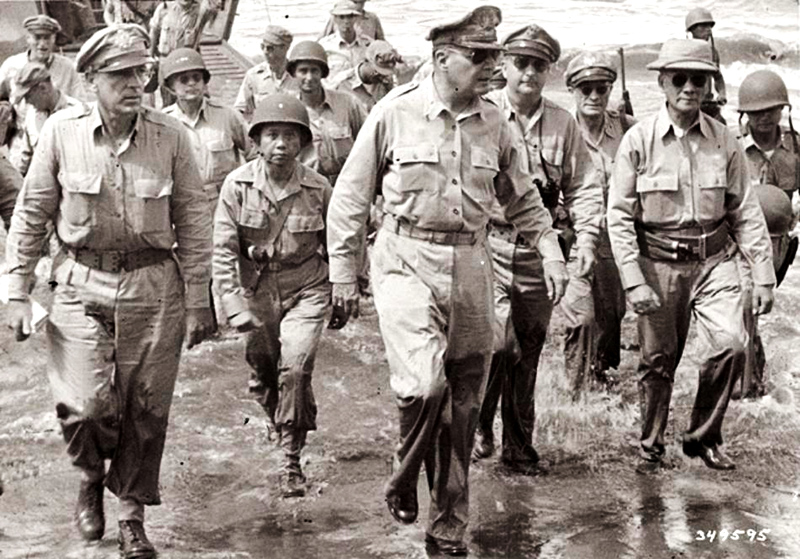 Then there was the Cuban Missile Crisis in 1962:
Photo From a U-2  Spy Plane Showing Soviet Missiles on Cuba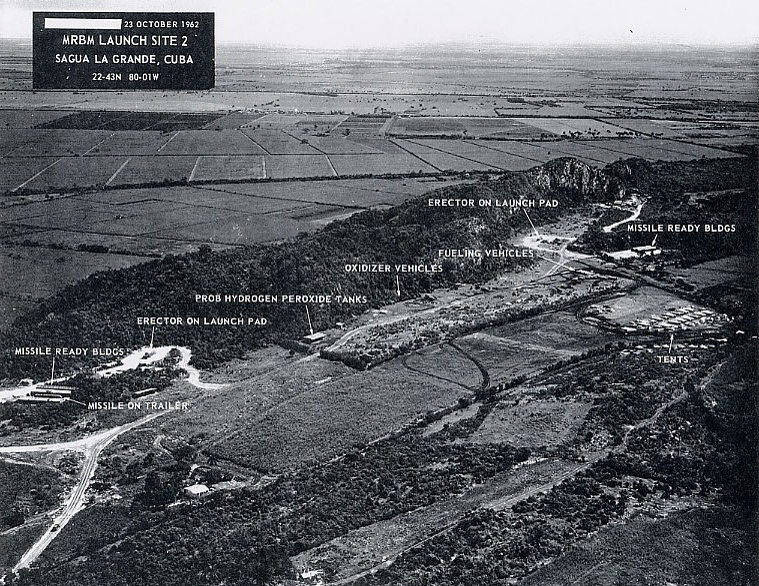 This one was during my time, and it was the most dangerous time in the history of the World.    U.S. Navy had two operations:
Stop Soviet ships from coming to Cuba.  The Cruisers and Destroyers took care of that.
Maintain an Amphibious Force  (8 or 9 Ships called a 'Ready Squadron') containing the Fleet Marine Force (Battalion) off Cuba where Castro could see us every day.   This Force could project onto the island at a moment's notice.  One of our ships was a Helicopter Carrier.    I was Communications Officer on my ship, and broke, in the Crypto shack, the message from the President placing all Armed Forces on DEFCON 1 (Maximum Readiness, Nuclear War Imminent).   If you don't think that will get your attention, think again.
"Herb" was the right person in the right place at the right time.   He had the knowledge and knew more about GMS and its Alumni than anyone, and he lived in Lewisburg.   He was perfect.    He knew it.   I believe he knew he was destined to do this, so he jumped right on it and held us together while we grew from a handful to around 3,000 Members.    Now, that Membership is "dwindling down to a precious few…..September,  November.".    Ironically, as I write this, it is September and this is Herb's September Song.    "Herb" has chosen to spend these few precious days with us, but quietly observing from the sidelines.   I am certain he will answer questions, if asked.
Herb, himself, said it.   In the LAST issue of the ALUMNI RECORD,  the one with no Volume Number or Date, Herb said in his "Parting Thoughts, "It's time."    Time to end over 42 years of Official association with Greenbrier Military School (GMS) and its Alumni (GMSAA).    In essence, Herb is telling us he is retiring, exiting Stage Right, hanging up the cleats, fading to black.   However  you want to describe it, Herb has said "Goodbye'".   Oh yes, he said he would still answer the phone, and that is very good.  You know how questions will pop up.   If Herb doesn't have the answer, I don't know who would.   Herb is the living authority on GMS and its Alumni.
You know, Herb and I graduated together in 1956, but there was a difference.    No, not that I was an Officer and he a Corporal.  Not that he had been the Manager of our Championship Basketball Team that won the 33rd Annual Eastern States Tournament in Glens Falls, NY, in 1955, and I was just a spectator.   No, the difference was that I was graduating from High School and Herb was graduating from the Greenbrier 2-Year College program.  Herb did those two college years at GMS and liked it so well, he came back later and did 10 years as a Teacher and Counselor.
Herb as an Instructor at GMS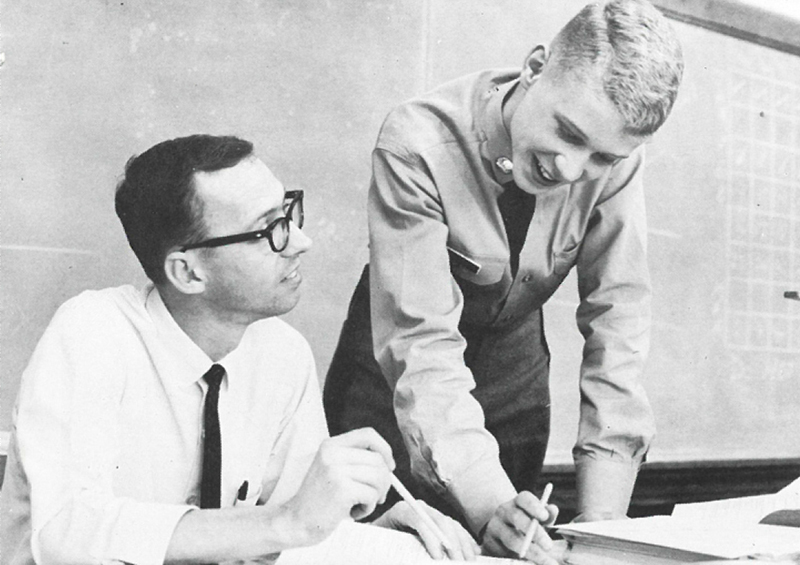 Herb's selection to be GMSAA Secretary was practically a "no brainer".   He had 12 years at the school, had married, JoAnn, the Boss's Secretary, and he lived in Lewisburg.   It was perfect.    Better yet, Herb wanted to do it.
Herb lamented there was no "training" for the job.   He was to be a pioneer.   It would be "learn as you go" and the training would indeed be "on the job".   Regardless,  Herb dug in, waded through it and accepted it for what it was.
His main support and assistant was JoAnn.  She was superb and pitched in to handle some of the more tedious jobs like checking Alumni in for Reunion at the Registration Desk.  
One of the measurements of success is growth.    Herb started with mailing the Alumni Record to 900 addresses he had for Alumni.    More than 300 were returned to sender.  Within the next five years, Herb was mailing to some 3,000 Alumni.   
 Herb brought us the 4-Day Reunion so we could "Reconnect, Reminisce, and Celebrate".    We returned to the grounds of the old school and even though it is now the West Virginia School of Osteopathic Medicine (WVSOM), you could feel the "Greenbrier Spirit" throughout the entire Reunion.    The "Greenbrier Spirit" is defined as follows: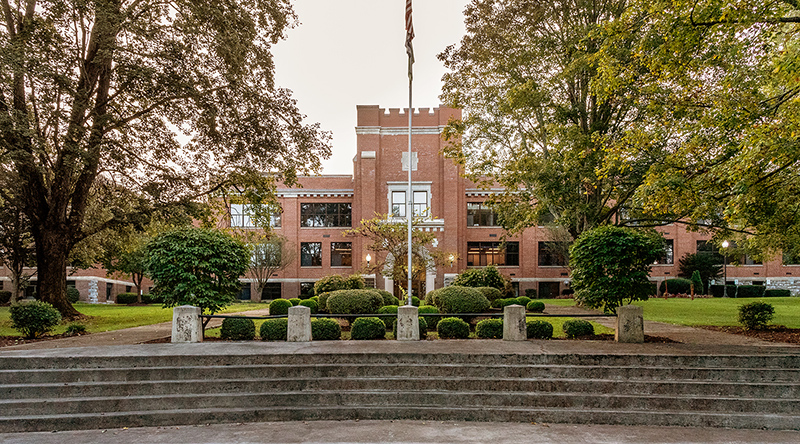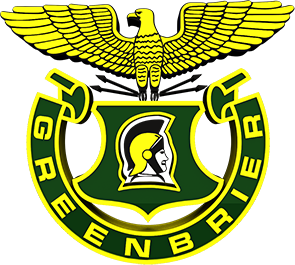 THE GREENBRIER SPIRIT
(Defined by Deak Roberts, Class of '56)
The "Greenbrier Spirit" exists in every Greenbrier Military School Alumnus and it somehow intangibly transfers to family and friends who are close to those who have the "Greenbrier Spirit". The "Greenbrier Spirit" is especially prevalent when former members of Greenbrier Military School are together or if one is in the presence of others that have the "Greenbrier Spirit".   
The "Greenbrier Spirit" is difficult to describe in words, but it can best be thought of as that intangible feeling we have when in the presence and camaraderie of those who have experienced Greenbrier Military School, especially when in the proximity of the old school and grounds.  
The "Greenbrier Spirit" feeling is based in having experienced the school and what the school was, what it stood for, and what it imparted to every Cadet there, an appreciation of Duty, Truth, and Honor;  the skills of Leadership,  the virtues of honesty, integrity, responsibility, morality,  decency,  respectability, ethical behavior, and the desire to achieve and succeed.
The "Greenbrier Spirit" is a Legacy of the Greenbrier Military School and is available to all those having an appreciation of Greenbrier Military School and its Alumni.     To have the "Greenbrier Spirit" is to believe in the virtues and values infused into every former member of Greenbrier Military School, enthusiastically support the goals and objectives of the GMS Alumni Association, and its subsidiaries, the Greenbrier Forever Society, and the Greenbrier Leadership Institute, and accept and embrace the fact that the "Greenbrier Spirit" will spread to others you have contact with.   May the "Spirit of Greenbrier" live Forever.   GREENBRIER FOREVER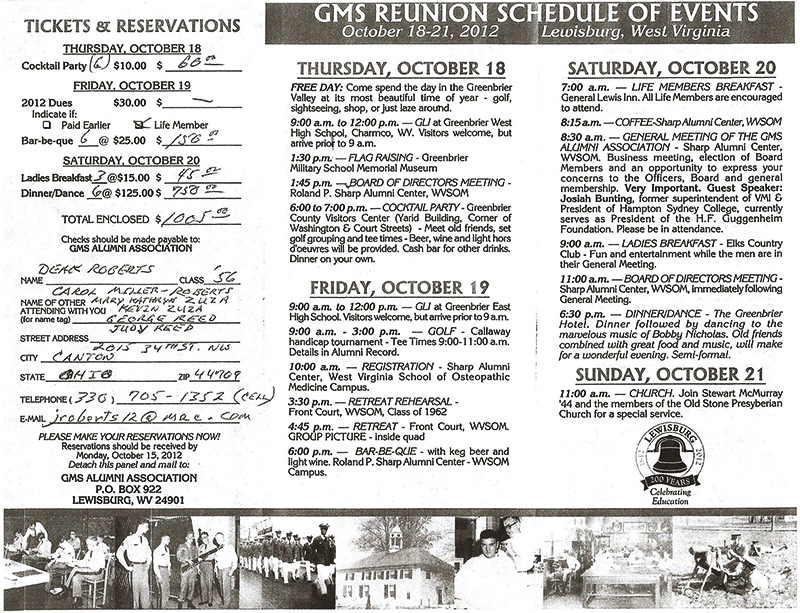 Reunions came complete with a first day of play, registration, and getting reacquainted.   It was a time to readjust to the area and reacquaint ourselves with what we used to take for granted.   Go into Lewisburg to shop and see what's new.   Actually, very little is new.  The quaint town has managed to maintain its "quaintness" over the years.   You could play golf with your friends at the Elks Country Club or various courses at The Greenbrier Hotel & Resort in White  Sulphur Springs, WV.
You could take one of West Virginia's "Country Roads" and enjoy the colors of Fall at their most spectacular finest.   God brought his paintbrush to West Virginia and created his Masterwork that reappears every year about the same time.
WEST VIRGINIA "COUNTRY ROAD" IN THE FALL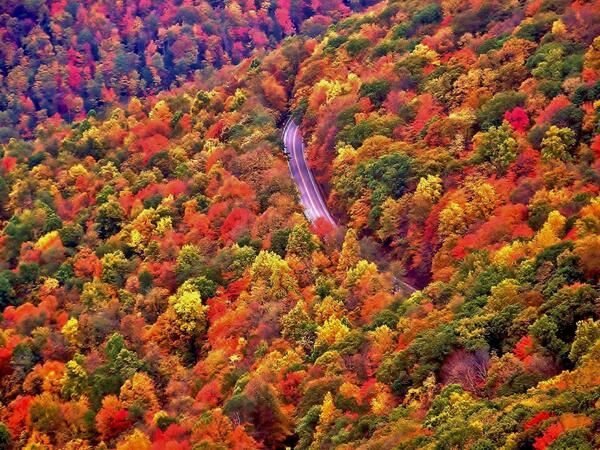 The second day we had the Flag Raising Ceremony at the GMSAA Memorial Museum.   This was followed by the Board of Directors Meetings.   Those not on the Board could play golf, or Register, or do whatever you wanted.   We had Retreat  at 1700 and assembled by Company in front of the School.  
Myron Pierson '71 (right) Plays Retreat at Every Reunion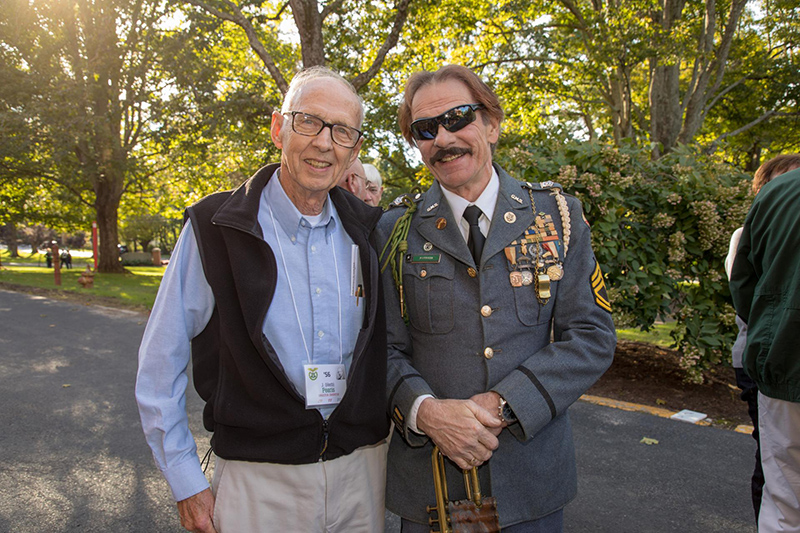 Announcements would be made and there was the reading of a Proclamation from the Governor proclaiming this Greenbrier Military School Day throughout West Virginia.  There would be a reading of the deceased over the past year.  That was tough to listen to because you always knew someone or more on that list.   They took a Group Photo in the Quadrangle after the Formation, followed by a great BBQ in the Roland P. Sharp Alumni Center.   The third day had the:
Life Member Breakfast at the General Lewis Hotel...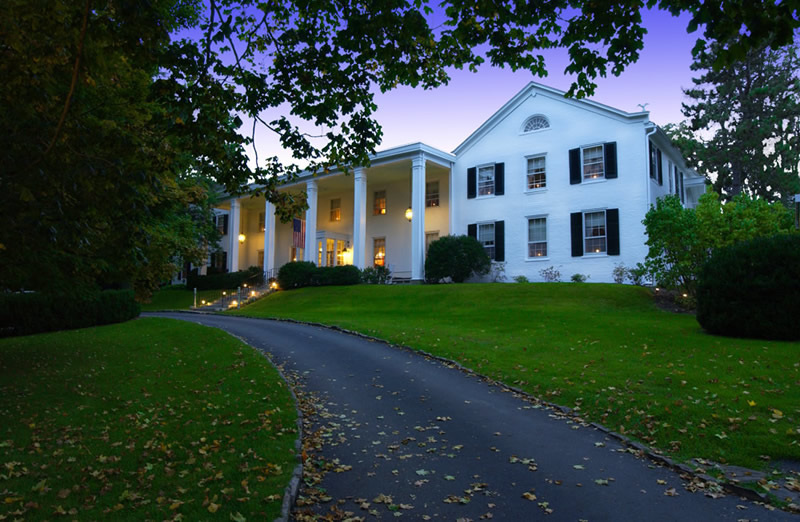 ...and in latter years at Bob Evans Restaurant.    Bob Evans'37 has a very interesting Life Story and you can read it on our Website under History and Museum here.

The Annual General Meeting of the GMSAA was held and the GMSAA President would report the status of the Association.   We had 50 year pins given out, new Directors were elected, announcements were made, and we discussed anything of concern to the Members.   The evening was for the Dinner Dance with live band featuring Bobby "The Voice" Nicholas and his Band from Morgantown, WV.   Bobby and his Band were with us for many years.
In 2006, when the Class of '56 had its 50th Anniversary Reunion, the Reunion Committee from the Class of '56 was Deak Roberts, Bob Blair, Charlie Duncan, and Herb Pearis.   I had arranged for the Queen of the Brier, Judy Adkins, and husband, Jay Segall, to return to the Brier and make her entrance once again through the raised Sabers of the 1956 Officers.   It was a super exciting event and with the help of our outstanding Master of Ceremonies, Al Chopey '54, who would give the Commands for the Raised Saber entrance of the Queen.   As fate would have it, Judy went to The Greenbrier College for Women (GCW), and she dated and went to the '56 Final Ball with my roommate, Sgt Mark Williamson, of Marietta, Ohio, just across the bridge from Judy's hometown of Williamstown, WV.  Her brother, Steve Adkins '58, was with us at GMS.   Judy was wonderful at the podium.    She said, "When Deak called me to do this, I said I would, but I was not going to wear that damned Tiara again."   The crowd loved that.   Then she said, "Deak said I would have to say a few words from this podium and suggested I tell you what I was doing and thinking when I found out I was chosen to be the Queen of the Brier.   I told him I couldn't remember what I had for breakfast this morning, let alone something from 50 years ago.".   That broke up the room.  The crowd enjoyed her remarks which were mostly geared toward roasting Deak.   She was just a delight.   After it was over, Herb came up to me and said, "Deak, you did it.  You pulled it off."   Well, we all pulled it off.   Out of the 17 Officers from 1956, we had 8 return to raise Sabers, 6 were deceased, and  the other 3 had not ever come to Reunion.   It was the greatest Reunion in our History, and you can read all about it here in the Passing In Review section on our Website.
Day Number Four was for what Herb says, "Church.  It's what we do best.".  We all assembled at the Old Stone Presbyterian Church just like the days of yore.   They would ask Bobby Nicholas to sing a solo.   His beautiful voice would project "the Lords Prayer, Amazing Grace, Ava Maria or some other wonderful song.   Truly magnificent.   Also, not to be forgotten was the Greenbrier Valley Brass Ensemble.  They were located next to the choir in the balcony, and they would employ the traditional New Orleans style presentation common among street bands in a funeral procession.  This group of outstanding musicians would play "Just A Closer Walk With Thee" slowly at first, then you would hear "a-one, two, three" and they would swing it on out into the full Dixieland Jazz rendition.  They were really incredible and added some great music to the service, as did the Choir.  Some of our guys even joined the Choir just as they did back in the day.    We would sing the old songs we used to sing (i.e.  Church in the Wildwood,   Onward Christian Soldiers, The Recessional).   Herb and a lot of our guys would be up in the balcony just like the old days.  Only then, they could look down on the girls from GCW.  Now, those were the days.
We did some wonderful things from our seats in the Board Room, and Herb, being our Secretary, had a hand in all of them:
We moved the brass cannons back to guard our Alumni area.
We provided for our Legacy to live in perpetuity by building our Memorial Museum    and adjacent Memorial Plaza with the Artillery Centerpiece.
We created the Greenbrier Leadership Institute.
We created the Greenbrier Forever Society.
We sponsored scholarships for a Greenbrier Cadet at Fork Union Military Academy and for students at the West Virginia School of Osteopathic Medicine and many other things.
Herb said it best in his last Parting Thoughts, "I do believe GMS was something special and was lucky to be a part of it for most of my adult life and have a wife as supporting as possible….."
I think I speak for all of our Alumni when I say, "I do believe HERB was something special and we were lucky to have been a part of it.    Herb was "The Force" that brought us back together, and as our Webmaster Matt Winans describes, "Herb was "The Glue" that kept us together all these years.  
So, as some of you know, my Art is Poetry, and I sometimes use it to Honor those who deserve it.   HERB definitely deserves all the accolades we can muster.   In order to Honor Herb, I have penned the Poem "HERB" under my Nom de Plume, Deak of Pebble Creek.

"HERB"
YOU CAN SEARCH THE ANNALS OF GREENBRIER MILITARY SCHOOL FROM CEILING TO THE FLOOR
FROM INCEPTION IN 1812 TO THE 1972 QUIET CLOSING OF THE DOOR
AND NO MATTER HOW MANY HERBS YOU FIND IN THE RECORDS AND THE BLURBS
THE MENTION OF THE NAME "HERB" WILL MEAN ONLY ONE IN GREENBRIER LORE
HERB PEARIS IS A LEGEND IN HIS OWN TIME AND THE PRIDE OF "THE ALUMNI BRIER"
FOR OVER 42 YEARS HE HAS BEEN PART OF THE SCHOOL, SOME VOLUNTEER, SOME HIRE
2 YEARS A STUDENT, 10 YEARS A TEACHER , AND 30+ YEARS A SHEPHERD AND MINISTER
TENDING A FLOCK OF RETURNING ALUMNI TO THE FOUNDATION THAT DID INSPIRE
NO. HE DID NOT DO IT COMPLETELY ALONE. HE HAD JOANN, SO…….NOT ALONE
HE MARRIED THE BOSS'S SECRETARY WHICH WAS A VERY SMART PLAY, TRUTH BE KNOWN
HIS DEVOTION TO ALUMNI WAS NEVER WANING AND HE CLAIMED IT WAS ON-THE-JOB TRAINING
OF COURSE IT WAS, HE WAS A PIONEER WITH LOTS OF KNOWLEDGE, JOANN, AND A PHONE
HE NURTURED OUR ALUMNI ASSOCIATION AS WELL AS THE BEST MOTHER HEN
THERE WERE TIMES HE DID MORE THAN JUST ….SIT IN
LIKE WHEN HE HELPED DEAK, CHARLIE D. AND BLAIR PLAN OUR 50TH REUNION WITH FLAIR
THE CLASS OF '56 REUNION WITH QUEEN RETURNING UNDER CROSSED SABERS WAS A WIN*
* -- You can read an accurate day by day accounting of the Class of 1056 Reunion by Deak on the GMSAA Website.
HERB BROUGHT US THE "ALUMNI RECORD" WITH ALL ITS WONDERFUL INFORMATION
HE HAS SERVED AS OUR "EAR" AND "SOUNDING BOARD" SINCE THE INCEPTION
HERB IS THE ULTIMATE "MR. GREENBRIER", THE MAN WE ALL ADMIRE
AND NOW THAT HE IS RETIRING, HE DESERVES A STANDING OVATION
SO, WE'LL SAY."BRAVO ZULU*, HERB", AND THANK YOU FOR CARRYING ON THE TRADITION
OF GREENBRIER MILITARY SCHOOL THAT SERVED US WELL AS OUR FOUNDATION
THE SCHOOL BROUGHT US TOGETHER AND YOU MADE IT A MISSION TO KEEP US TOGETHER
MAY GOD BLESS YOU AND JOANN AS YOU RETIRE FROM YOUR LONG TIME AVOCATION
* — Bravo Zulu — International Flag and Code Signal meaning "Well Done"
YOUR FELLOW CLASS OF '56 GRADUATE and OLD FRIEND
DEAK
October 1, 2019