Submitted by

Mike Ruth

on Mon, 10/26/2015 - 21:57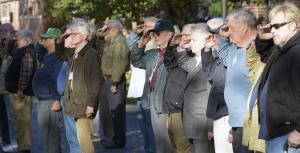 I posted some of my photographs of the recent 2015 reunion on the GMSAA website. They are located at, http://www.gmsaa.org/gallery/2015_gmsaa_reunion
Also the 2014 reunion photos taken by official GMSAA photo guy are now up online.
Regarding the 'Official' Facebook page, I like 2 people to act as co-administrators who will also have access. Contact me if you want this honorable honor. I also recommend that this (Facebook) gets passed on to others as we progress with it.
If anyone else has photos of this recent reunion, please send them to me at my email address, not through the submit button on GMSAA.ORG. Just email them to me, my email address is found in the cadet database.
If I have posted a photo that you think should not be up, please let me know and I will remove it.
Mike