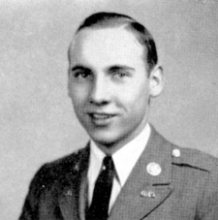 Willam Asa White, 94, lifelong resident of Madison, died on November 18, 2016, after an extended illness at home. Born June 28, 1922. Always lived in Madison, West Virginia. Always saying "Madison is a good place to live and raise a family" Bill was a quiet, gentle, kind and honest man who dearly loved his four children; ten grandchildren; and ten great-grandchildren.
He had several jobs before working at Boone National Bank with his father, E.E. White. He worked for 30 years at the Boone National Bank which went through many bank name changes. He was Senior Vice President in charge of operations upon retirement. Bill scored the winning shot in the State Regional basketball game at Gassaway against East Bank in 1940. Bill attended Greenbrier Military in Lewisburg, after high school before graduating from West Virginia Institute of Technology. He graduated from Scott High School in 1940. He played basketball and baseball (2nd base) for Scott High School and West Virginia Institute of Technology. He served in the U.S. Navy as a Lieutenant on the USS Driller stationed in Argentia, Newfoundland. Returning from World War II, he returned to WVIT and earned a B.S. Degree in mathematics.
Bill's greatest pleasures in life was fishing, teaching the grandchildren to wade Little Coal River, how to bait a hook and enjoy the water. Loved to play tennis. He never said an unkind word about anyone. He was generous, but frugal. Very often he remarked, "We are really blessed to have such a wonderful family." He loved to read and calculate! Keeping the checkbook up to the minute correct! Loved a big bowl of ice cream and Snickers at midnight! He ate well, but never gained a pound.
Bill leaves behind, wife, Lois of 66 years; four children, William A. White Jr. (Cheryl), David Carver White (Wanda), Nancy Anne Gore (Jim), and Marjorie White Drinkard (Bill); ten grandchildren, Brian White, Laura White, Ryan White (Sara), Daniel White (Nikki), Kelly Hardy (Jason), Amanda Theetge (Shawn), Lyndsay Paugh (JC), Jarron Gore (Kristina), Martha Artley (Kenny), and Dylan Drinkard; ten great-grandchildren, Ethan White, Avery Theetge, Ellie Theetge, Dorothy Artley, Todd Artley, Lilly White, James Paugh, Asa Paugh, Macy White, Hank White. His children, grandchildren, and great-grandchildren were the love of his life. Bill will be missed by a host of nieces, nephews, extended family and many friends.
Preceded in death by his parents, Everett Edison White and Lula Burdette White; brother, Everett E. White, Jr.; and sisters, Helen White Lacy and Audrey McCallister Byus.
He dearly loved and was a dedicated member and one of the oldest of the Madison United Methodist Church and was a life member of the Daniel Boone Post 5578 Veterans of Foreign Wars, Madison, WV. For years he helped collect many dollars and delivered many fruit baskets for the needy until he was no longer able to participate.
Service will be held at 2 p.m., Monday, November 21, at Handley Funeral Home in Danville with the Rev. Rick Swearengin officiating. Burial will follow at Boone Memorial Cemetery at family plot with VFW Military rites. Friends may visit at 1 p.m. (one hour before the service begins). In lieu of flowers, please support Daniel Boone VFW Post 5578 or the Madison United Methodist Church Faith Food and Family fellowship program.