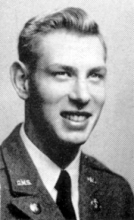 THOMAS JACKSON BLAIR III, 87, passed away on March 13, 2020, after a courageous battle with Alzheimer's Disease, at Hubbard Hospice House deemed him 'interim mayor and CEO'.
He was born in Weston, WV, on February 18, 1933, to the late Thomas Jackson Blair Jr. and Emma Harrison Davisson Blair. He was preceded in death by his sister, Anna Blair Curtis.
He was a graduate from Charleston High School, serving as class president Greenbrier Military School, and Virginia Polytechnic Institute (VPI), also serving as class president of 1955.
Tom never knew a stranger; everyone was his friend. He loved an audience and was never short on stories and jokes. He loved horseback riding, fishing, bike riding and playing games. He loved to spend time at the family farm of Annamede in Crawford, WV, with many friends and family; everyone was always welcome.
Tom was a civil servant in many capacities, making numerous contributions to his beloved state of West Virginia and alma mater, VPI. He served as a Commissioned Officer, U.S. Corps of Engineers in Charlottesville, Va. He started as a Project Engineer at Kelly Gidley, and Staub Inc., eventually becoming President and CEO of Kelley, Gidley, Blair and Wolfe, Inc. He was a registered Professional Civil and Environmental Engineer. His professional affiliations were many as were the numerous honorary recognitions!
He is survived by the love of his life, Irene Pearson Butcher Blair; Children, Julia Ann Blair Childers (William), Mary Elizabeth Blair, Carol Davisson Blair Lambdin (Rob), Thomas Jackson Blair IV (Cara) and Charles Thomas Butcher Blair, and numerous step-children and grandchildren.
A service to celebrate his life will be held at Frist Presbyterial Church at 2 o'clock on Wednesday, March 18, 2020.