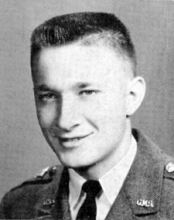 1940-2018
Thomas E. Stepp, 77, of San Ramon, CA passed away peacefully at San Ramon Regional Medical Center due to complications from Alzheimer's. He was born on August 15, 1940, in Welch, West Virginia to Clarence and Sophia (Gorchick) Stepp.
Tom was an incredible athlete playing both football and baseball in High School. He went on to play baseball at West Virginia University where he served as Captain of the WVU baseball team his junior and senior seasons. He signed a contract with the New York Mets and played in the New York-Penn League until a broken ankle prompted his retirement from baseball. He then started his successful 35 year career with Shell Oil Company.
Tom was an avid sports fan. He loved going to Rockets and Astros games. On weekends, he was always traveling to high school football games, watching college/pro football games, fishing on Lake Conroe or on the golf course with his children or friends.
He loved coaching and was regarded as one of the top youth baseball coaches in Houston. He had a talent for choosing players, placing them in the correct position and helping them reach their full potential.
He is preceded in death by his loving wife of 45 years, Shirley Jean Stepp. He is survived by his son and daughter-in-law Tom and Mechele Stepp and grandson Michael of Sugarland, TX; daughter and son-in-law Kristie & Kevin Rouse of San Ramon, CA. He is also survived by his brother Bill Stepp, sisters Cheryl (Tim) Barnes and Peggy (Kevin) Graham and numerous cousins, nephews, and nieces.
Published in the Houston Chronicle on July 19th, 2018.