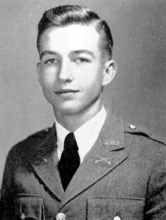 Thomas Dawson Canby 90, formerly of Glen Mill, PA., son of George Rust Canby and Ann Elizabeth Dawson Canby, passed away on May 15, 2018 following a short illness. He is a descendant of Thomas Canby who settled in New Hope, Pa. in 1682, and on his mother's side, he is a descendant of Robert Peter, the first mayor of Georgetown, Washington, DC. In the last phase of his life, the hospice and nursing staff commented on his calm and polite demeanor which was consistent with how he lived his life.
Tom grew up on the family farm in Montgomery County, Maryland. He was valedictorian of the 1946 class at Greenbrier Military School in West Virginia. In 1950, he graduated with a Bachelor of Science Degree with honors from the Glenn L. Martin School of Engineering and Aeronautical Sciences at the University of Maryland. In June, 1952, he graduated with a Master of Science in Chemical Engineering from the Massachusetts Institute of Technology.
Tom started his career with Dupont Nemours in Buffalo, NY. He was transferred to Memphis, Tennessee, and then to Baytown, Texas, prior to working many years in Wilmington, Delaware. After his retirement from DuPont in 1985, Tom and his wife Marge continued to reside near Chadds-Ford, Pa.
Tom enjoyed life's experiences during his retirement years. He participated actively in the Delaware Photographic Society and his pursuit of perfection resulted in may photos being recognized and received awards in juried contests. Tom's love of photography also resulted in publication of a coffee table size book, Brown Bears at Brooks River. He greatly appreciated the photographic services provided by Colorworks in Washington, Delaware. tom took additional award-winning photographs while soaring over volcanos in Hawaii in an ultralight plane. Another outstanding photographic experience was during Tom and Marge's car trip across Namibia, Botswana, Zimbabwe and South Africa.
He loved all watersports, including sailing, fishing and scuba diving. During a series of trips to Alaska, he loved to fish for salmon and was prepared to offer up his catch to any grizzly bears that wandered too close. He also enjoyed fishing for Halibut offshore from Alaska. At age 68, Tom earned his open-water scuba diving certification at the Cousteau Fiji Island Resort. His favorite diving expedition was in the Red Sea.
Tom is survived by his son, Thomas Canby Jr, and his wife Kate, and his daughter Mary Jean Goetz and her husband Bob. He is survived by grandchildren, Julia Canby-Rice, Rebecca Canby, Liz Raudzus-Canby, Sarah Goetz and Matthew Goetz, and nine greatgrandchildren. Tom was married to Margaret Overbey for over 63 years before she died in 2014. His son Charles Canby passed away in 2007
Services will be held at St. John's Episcopal Church in Glenn Mills, PA on Saturday, June9, 2018 at 11 a.m. The committal will be the following day at Woodside Cemetery in Brighton, MD. In lieu of flowers, donations may be made to: Tudor Place Historic House and Garden, Washington DC; the American Cancer Society or the SPCA.