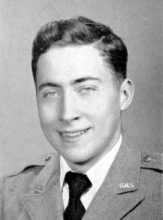 Samuel M. Hudson II, 88, passed away Monday, June 25, 2018, in Parkersburg, WV, with his wife of 65 years at his side.
He was born in Marysville, TN and graduated from Greenbrier Military School in Lewisburg, WV. Sam was a businessman and entrepreneur. His career included owning a meat loscker business, managing road construction in Texas, working for the family business, Red Head oil and Gas, working in property acquisition for Ashland Oil , owner and operator of HUDCO, Hudson Petroleum Company and HUDCO Tire Service. His hobbies included farming, raising Angus cattle land development, piloting small planes, traveling, playing bridge and Rotary. He was a longtime member of Old Stone Presbyterian Church in Lewisburg. Sam lived in Lewisburg in his youth and retirement, also residing through the years in Cleveland and Canton, Ohio, and San Marcus, TX, and raising his family in Wooster, OH.
Sam is preceded in death by his parents, Elmer and Hellen Hudson; and a granddaughter, Jennifer Hudson
He is survived by his wife, Dr. Tate Hudson; sister, Helen Stabler; children, Walter Hudson, Samuel Hudson III (Cynthia, Laura Warren (Terry) and William Hudson (Cindy); grandchildren, Natalie Warren (Dan Patterson) Caroline Meyer (Anthony) , Michael Hudson, Daniel Hudson, Samuel Hudson IV, Claire Hudson and Catherine Hudson; great-granddaughters, Harper Patterson and Madison Meyer; many nieces and nephews; brother-in-law, Dudley Flanders; sister-in-law Charlotte Hobson; and his faithful dog, Alice.
In lieu of flowers, donations can be made to the following: Lewisburg Rotary Club Foundation, Dam's House of Hope, University of Southern Mississippi Foundation and Jennifer Hudson Memorial Nursing Annual Scholarship.