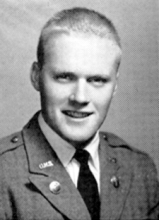 Roy M. Blizzard Jr., 83, passed away peacefully at his home on July 23, 2018. He was born on February 9, 1935, in South Charleston, the first son of Roy M. Blizzard Sr. and Lillian Thompson Blizzard.
Roy attended Woodrow Wilson Junior High School and graduated from Stonewall Jackson High School in 1953. After high school, Roy attended Greenbrier Military School in Lewisburg for post graduate studies before going on to attend West Virginia University on a football scholarship. Roy met and married his partner, best friend and the love of his life, Mary Elizabeth Summers, with whom he was blessed to have celebrated over 60 years of marriage. Together, they pursued their careers in education while raising their young family. Roy received a Bachelor of Science in Business Administration and a Bachelor of Arts in Health and Physical Education from Morris Harvey College, a Master of Arts in Special Education from Marshall University and a Doctorate in Educational Administration from West Virginia College of Graduate Studies. Roy always credited Mary with getting him through his doctoral program by editing and typing his papers and dissertation.
Roy's career in education and school facilities planning spanned over 50 years. He was first and foremost a teacher and coach. Early in his career, he shared his talents with his students at DuPont and Nitro High Schools and Glenville State College. After teaching, he went on to work for the West Virginia Department of Education, where he retired after 20 years of service as the Director of School Facilities Planning. After retiring from service with the West Virginia Department of Education, Roy moved to Asheville, NC, where he worked for the Buncombe County School System for ten years and retired as the Director of Planning, Maintenance and Plant Operations. After retiring from public service for the second time, Roy returned to his beloved West Virginia and formed the Southeastern Planning Group which developed master facility plans and educational specifications for new construction for 16 counties. Many new schools in West Virginia were influenced by his planning.
Roy was a devoted and loving father. Through example, he taught his children how to work hard. Growing up, most days you could find his boys working with him side by side cutting firewood on the family farm in Elkview. He was known for his firewood business and supplied many Charleston area families with wood each winter. Roy was also an avid grouse hunter. He took his children with him hunting where he instilled in them a love of everything about West Virginia. Those hunting trips were more about imparting life's lessons and bonding with his children than bird count. Roy could always be found at all his children's high school sporting events rooting them on.
Later in life, Roy and Mary returned to their Elkview farm which became a hub for many summer adventures and holiday gatherings with his children and grandchildren. He was preceded in death by his younger brother, Edsel Blizzard. He is survived by his loving wife, Mary Summers Blizzard, and their son Mark R. Blizzard and Sherrie, son Stephan H. Blizzard and his children Braxton and Stephanie, son Roy M. Blizzard, his wife Tina Pappas Blizzard and their children, Mary, John, Roy, and Emily and daughter Melissa Blizzard Brown, her husband Earl Brown and their children Rowan and Lucinda. Survivors also include his son Doug Blizzard and his sons Garrett, Colton, Dylan and Dakota; older sister Mary Lucille Motley and his younger brother Dudley Blizzard.
Visitation will be from 5 to 7 p.m. Friday, July 27, at Barlow Bonsall Funeral Home, Charleston. Graveside service will be 2 p.m. Saturday, July 28, at Spring Hill Cemetery, Charleston, with Chaplain Pete Thompson officiating.
The family would like to recognize HospiceCare for the love and care they provided to Roy.
Condolences may be sent to the family at www.barlowbonsall.com.