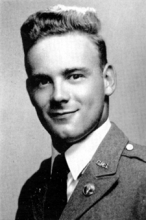 Richard "Dickie" Booker Dalton, 85, died Saturday, February 24, 2018 in Kingsport, TN. He was preceded in death by his wife, Shirley Ann Rigney Dalton.
He was born on November 11, 1932, in Bluefield, WV, the son of the late Grady William Dalton and Freda Louisa Howell Dalton.
After having moved Richlands in 1940, he was a graduate of Richlands High School, greenbrier Military School, Emory and Henry College, and the American Institute of banking.
After shaving served his country in the Air force during the Korean War, he was employed as a banker at the Richlands National bank. An active member of his community, he was involved in various organizations including the Richlands Kiwanis Club and the Richlands Moose Lodge. He was passionate about Karate, earning his black belt when he was 57 years old and delighted to teach anyone who asked or anyone who just stood still too long.
He is survived by his daughter, Anne Freya Dalton, and two grandchildren, Charles Spurgeon Booth III and Marianne Dalton Boothe.
The family will receive friends Saturday, March 3, 2018 at 10:00 a.m. at Singleton Funeral Service in Cedar Bluff, VA. An M11:00 a.m. Memorial Service will be held with the Rev. Tim Mills officiating. Burial will follow at Clinch Valley Memorial Cemetery in Richlands where Military Graveside Rites will be conducted by the Members of the Casey-Shortt VFW Post # 9640, Richlands, VA.
In lieu of flowers, the family suggests that donations be made to the Tazewell County Humane Society, P O Box 112, Richlands, VA 24641 and the Tazewell County Friends of the Library, P O Box 860, Richlands, VA 24641.
Online condolences may be sent to the family by going to www.SingletonFuneralService.com. Singleton Funeral Service is serving the Dalton Family.