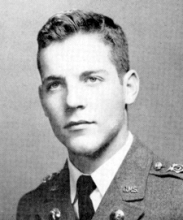 Richard Morgan McCoy, 79, of Washington, WV, passed away December 26, 2018.
He was born October 5, 1939, in Jackson County, WV, the son of the late James Vernon McCoy White.
Richard was a 1957 graduate of Greenbrier Military School and a veteran of the U.S. Marine Corps. He retired from GE Plastics after 33 years of service.
He is survived by his wife of 58 years Barbara J. Fox McCoy; his four children, Jeffrey McCoy (Janet) of Washington, WV, Kimberly McCoy of Parkersburg, WV, Christopher McCoy (Missy) of Madison, MS., and Melissa Higgins (James) of Washington, WV; his sister, Ann Lovern (Ken) of Jonesboro, AR; five grandchildren, Phillip McCoy (Julie), Eric McCoy (Brittany), Bree McCoy (Tyler), Michael McCoy (Nikki) and Joseph Higgins; and seven great-grandchildren, Ryleigh, Levi, Henry, Otto, Payden, Jackson and Owen.
In addition to his parents, Richard was preceded in death by his twin brother, David Shelley McCoy.
Graveside services will be held at 1p.m. on Monday, December 31, 2018 at Ravenswood Cemetery where military honors will be conducted by the Jackson County Honor Guard. Funeral services will follow at Lambert-Tatman Funeral Home in South Parkersburg, WV.