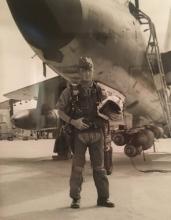 Oscar Wallace "Wally" Frazer III passed away peacefully at home in Granbury, TX on October 11, 2019 from natural causes. He was 81.
Wally was born on August 31, 1938 in Bluefield, WV to Oscar Wallace Frazer III and Emily Frances Dyer. After graduating from Greenbriar Military Academy, Wally entered the US Air Force, where he served for 20 years as pilot and flight instructor.
Wally earned many awards and medals, most notably the Distinguished Flying Cross and the Top Gun award. After flying 100 successful missions over North Vietnam in his F-105 Thunderchief fighter jet, he was allowed to come home to his family in San Antonio, TX. After retiring from both the US Air Force and a second career in electronics, Wally and his wife Betty spent their time fishing, restoring old boats, target shooting, and playing with their four grandchildren and two great-grandchildren.
In lieu of flowers, please contribute to Wounded Warriors Foundation or charity of choice. Wally was preceded in death by his father Oscar and mother Emily Frances, brothers Hugh Frazer and Fred Frazer, sister Nancy Snodgrass, and son-in-law Mike Wilson. Wally is survived by his beloved wife of 57 years, Betty; daughters Laurie Moore (husband David) and Susan Wilson; grandchildren Sarah Wilson, Abigail Wilson, Noah Wilson (wife Sarah) and Lizzie Moore; great-grandsons Kellen Wilson and Nathaniel Steward.
Service: 11:15 a.m. Thursday in Dallas Fort Worth National Cemetery. Visitation: 6 to 8 p.m. Wednesday at Wiley Funeral Home.
Viewing services will be held at Wiley Funeral Home in Granbury, TX on Wednesday, October 16, 2019 from 6:00-8:00pm.
Graveside services will be at the DFW National Veterans' Cemetery in Fort Worth, TX on Thursday, October 17, 2019 at 11:15am. The procession will be leaving the Wiley Funeral Home in Granbury at 9:00am.