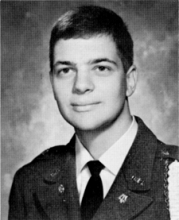 https://www.schoedinger.com/obituaries/Michael-Smith-150/#!/Obituary
Obituary for Michael S. Smith
Michael S. Smith, age 67, passed away on Saturday, December 14, 2019. He was born on December 27, 1951 in Columbus, Ohio to the late Franklin and Reatha (Estep) Smith.
Michael graduated from Greenbrier Military High School, and then went on attend Miami University. He was Vice President at Hocking Valley Steel until his retirement. He was an avid car enthusiast and for a time enjoyed turning his hobby into the MS Auto Dealership where he sold and restored classic cars. He enjoyed playing golf and was a member of The Medallion Club. He also enjoyed reading, NASCAR and politics in his spare time.
Michael is survived by his son, Ian Smith, daughter and son-in-law Jessica and Jeremiah Gebhart, son Cameron Smith, and grandchildren Gunner and Addington Gebhart.
In addition to his parents, Michael is preceded in death by his brother, Frankie Smith and his second wife Deborah (Knox) Smith.