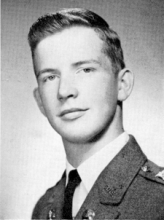 Michael Lynn McClung (January 3, 1947 - July 18, 2019) was the son of William Wilson and Leora Belle Spinks McClung. He was married to Karen Lee Coleman McClung. H was married to Karen Lee Coleman in 1968.
Born in Ronceverte, Mike grew up on Merry Hill Farm where his father was the farm manager. The McClung family were among the Greenbrier Valley's first settlers, establishing a farm in Williamsburg in 1785. Mike attended Lewisburg public schools and entered the Greenbrier Military School in his junior year, where he graduated in 1964 with honors for marksmanship. Mike the enrolled at West Virginia Tech in Montgomery, WV where he graduated with joint degrees in mathematics, physics and nuclear engineering.
After school, mike enrolled in General; Electrics' management program in Cincinnati, Ohio. He worked for General Electric through the Vietnam War where he led the production of jet engines for the military. Later, he oversaw the production of submarine engine systems and other technologies for the military. In 1976, Mike accepted a position with Colt industries in Beloit, Wisconsin as Superintendent of Large Engine Operation, producing back-up power for nuclear facilities, large engines for the maritime shipping industry, as well as hospital and city emergency power systems. Mike returned to Lewisburg in 1977 to become plant manager and Vice President of Appalachian Electronic Instruments.
Aside from his technical education and career, Mike was an outdoorsman and a farmer in his heart. He loved hunting, fishing, and most of all, farming. He took a lot of pride in the family farm, where he ran a top-quality herd of angus beef cattle. His appreciation of history was evident in his enjoyment of antiques and collectible cars.
Mike served on the Lewisburg City Council for 16 years, and also on the Greenbrier Public Service Commission. He served on the board of Gateway Industries Sheltered Workshop in Ronceverte. He was a longstanding member of the Elks, and a past president of both the Richlands Ruritans and the Meadow Mountain Hunt Club. He was proud to be a Son of the American Revolution. As a lifelong member of the Old Stone Presbyterian Church, Mike served as both a deacon and elder. He also served on the property committee overseeing the first renovations for the educational building.
He is preceded in death by his brother William Kent McClung. He is survived by his beloved wife Karen Lee, two sons, and five grandchildren. His younger son Kevin Howard has raised tow fine young men, Kyle Hunter and William Wilson Cody. His older son Michael Oliver and his wife Katya Kopaskie have three wonderful children, William Owen, Kelsey Lynn and Caroline Lynn and Caroline Nan.