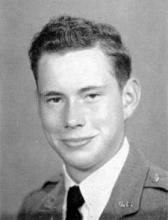 John R Mitchell Sr. John Riley Mitchell Sr., 85, of Charleston, passed away on June 27, 2017, at Hubbard Hospice House, Charleston. He was born on November 6, 1931, in Union, Monroe County.He was preceded in death by his parents, James O. and Katherine Mitchell; his brother, J.O. Mitchell; and his "sister," Juanita Arbaugh; his wife, Myrna Hope Mitchell; and his former wife, Barbara G. Mitchell.Surviving are children, John R. Mitchell Jr., James L. (Terri) Mitchell, Andrea M. Mitchell and Tia (Michael) Joslin-Crone; grandchildren, Katherine F. Mitchell, Riley E. Mitchell, Hannah R. Mitchell, James R. Mitchell, Jennifer R. Mitchell, Taylor H. Crone, Jordan A. Crone, along with four great-grandchildren.
John graduated from Greenbrier Military School and went on to earn a Bachelor of Arts from WVU College of Arts and Sciences and a Bachelor of Law from WVU College of Law, where he was a member of the William P. Willey Chapter of the Phi Alpha Delta Law Fraternity.Prior to his attendance in law school, he served honorably in the United States Army, where he attained the rank of Captain and proudly served on numerous competition firearm teams. He was also a certified Private Pilot by the Federal Aviation Administration.
John was known as a "trial lawyer" for 57 years. He began his law practice in 1960 at the Chelyan Junction with Rudolph DiTrapano. From then on, he tried thousands of cases in nearly every county in the state. He was admitted to the West Virginia State Bar and also licensed to practice in the Supreme Court of Appeals of WV, the U.S. Court of Appeals-2nd Circuit, the U.S. Court of Appeals-4th Circuit and the U.S. District Court for the Southern District of WV.
He was a member of the WV Association of Criminal Defense Layers, the WV Association of Justice, The American Association of Justice, the National Association of Criminal Defense Lawyers, the American Bar Association and a Senior Counsel Member of the American College of Barristers. He was also a member of the Masonic Lodge Kanawha 20, Beni Kedem Shriners, Scottish Rite of Freemasonry-Valley of Charleston, York Rite Bodies, Royal Order of Jesters-Charleston Court 111, a Life Member of the Amateur Trapshooting Association (former national champion in his class), the National Rifle Association, Greenbrier Military School Alumni Association and the American Legion.
Funeral service will be held on Wednesday, July 5, at the First Presbyterian Church of Charleston, on the corner of Leon Sullivan Way and Virginia Street. Visitation will be at 11 a.m. followed by a service at noon. Burial will be immediately following at Cunningham Memorial Park in St. Albans.
The family has asked that in lieu of flowers, that donations be made to the Hubbard Hospice House.Gatens-Harding Funeral Home is in charge of arrangements.