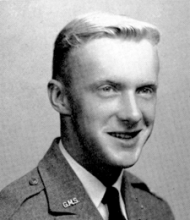 John Pearson Gardner arrived on the 16th of February, 1934 in Marianna, Pennsylvania. John was the only child born to George Pearson Gardner and Frances Gardner.
He was schooled in Pennsylvania and West Virginia. John graduated from Greenbrier Military School in Lewisburg, West Virginia and attended West Virginia University in Clarksburg, W. Virginia prior to going into pilot training in the United States Air Force. As a USAF Pilot, he flew single and multi-engine piston, single and multi-engine jets and four engine turbo-prop aircraft. John retired from the Air Force as a Command Pilot. During his USAF career, Major Gardner was an instructor pilot in the B-25, T-33, T-37 and C-130 Aircraft. Duty stations included several bases in the US, (Reese Air Force Base in Texas, Homestead Air Reserve Base in Florida, Keesler Air Force Base in Mississippi, Hill Air force Base in Utah, and Cannon Air Force Base in New Mexico; France, Germany and Vietnam where he flew the F-4 Phantom Air Craft and the F-100. He loved flying the F-100, his thought being that to fly it correctly one had to be a "really good" pilot. But he spoke lovingly of the C-130. "The ole gal would just fly anywhere in any kind of weather and get you there and back safely." While serving for 21-years in the Air Force, Major Gardner earned many commendations, including the AIR MEDAL award for meritorious achievement while participating in aerial flight and Command Pilot status.
While visiting a military friend in Littleton, CO, he met Mona June Boley. Fourteen months later, their friendship turned into marriage. Mona and John remained in Littleton while she continued to teach school and he was 'the cook'. After a 14 month battle with cancer, John took his "last flight" on September 6, 2017.
Survivors include his wife, Mona, his daughter Shawna Rae Thomson (husband, Patrick), his son John Patrick Gardner, and granddaughter Megan Anne Thomson, of El Paso, Texas; a step-daughter, Stacia Leigh Marcheso (husband, Brett) of Broomfield, Colorado; 2 cousins, Donald Gardner (along with his two sons, Bill and Jeff) of Washington, Pennsylvania and Georgetta Abke of Macomb, Michigan.
A Celebration of Life will be held on Tuesday, September 19, 2017 at 11am at Horan & McConaty Family Chapel, 5303 East County Line Road, Centennial 80122.
In lieu of flowers, donations may be sent to Greenbrier Military School Alumni Association, Lewisburg, W. Virginia; Wings over the Rockies, Denver, CO or Porter Hospice, Littleton, CO.