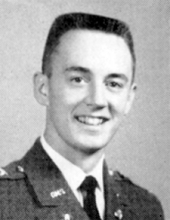 John "Jack" N. Monarek, 74, of Allentown passed away Monday,
May 11, 2015 at St. Luke's Hospital in Allentown. Born
November 6, 1940 in Phoenixville, PA, but resided in Mont Clare,
PA until the 1960's, he was the son of the late Mary (Vasko) and
John J. Monarek. He was married to Barbara (Lackatos) Monarek
with whom he would have celebrated 30 years of marriage this
coming August.
Jack worked as a sales rep for Boston Scientific retiring in
2010. He also worked for 3M medical supply for many years and
several other medical supply companies.
Jack was a 1958 graduate of Phoenixville Area High School where
he was a 4 letter varsity athlete and was just recently inducted
to the Phoenixville Hall of Fame. After graduating he went to
Greenbrier Military School on a Football Scholarship. Jack then
went to Wake Forest University on a full football scholarship but
also competed for the Wake Forest Track Team where he held the
school record for forty years in the longest javelin throw. Jack
served his country in the U.S. Air Force during the Vietnam War.
While at McGuire Air Force Base he played baseball for four years
and was given the opportunity to play minor league baseball but
chose a college education instead.
He was a member of St. Nicholas Russian Orthodox Church in
Bethlehem where he volunteered his time and served as the church
treasurer.
Jack will be lovingly remembered by his wife, Barbara, children,
John and wife Cori, Larisa, David, Kyra and Gregory, five
grandchildren, Alex, Olivia, Sophia, Jack and Lily. He is also
survived by numerous family members.
A viewing will be held on Saturday, May 16, 2015 at St. Nicholas
Russian Orthodox Church 980 Bridle Path Rd., Bethlehem, PA 18017
from 9-11 AM followed by a service at 11 AM. Burial will be at
Holy Ghost Eastern Rite Church Cemetery in Phoenixville.
Arrangements Connell Funeral Home.
Memorial contributions may be made in Jack's name to St.
Nicholas Russian Orthodox Church