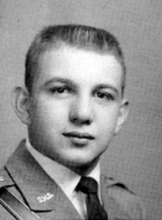 James J. Spanos age 79 of Mt. Lebanon passed away peacefully Thursday, August 2, 2018.
Born on August 30, 1938 in Pittsburgh, son of the late John and Jenova (Kaites) Spanos, James was a student at Greenbriar Military School and graduated from West Virginia University. He retired from Sales Management and marketing in 1999. James was loved by everyone at Holy Cross Orthodox Church, where he served on the Parish Council and was a board member of the T.H.E.O.S School. He is most known for his dedication and work ethic with the the annual Holy Cross Food Festival. He was a recipient of the St. Photios Award in 2018 for his dedication to Holy Cross.
James was a loving husband of Regina (Skarvelis) Spanos for over 56 years, beloved father of John (Julie) Spanos of Mechanicsburg, PA and Nick (Jennifer) Spanos of Venetia, PA; cherished Papou of James (Samantha) Spanos, Andrew Spanos, Anastasia Spanos and Madeline Spanos; dear Big Papou of Audriana Spanos. Also surviving an Uncle, cousins, nieces and nephews.
Family & Friends are welcome Monday, August 6, 2018 from 4-9 pm at Holy Cross Greek Orthodox Church, 123 Gilkeson Rd., Pittsburgh, PA 15228. A Trisaigon Service will be held at 7 pm. Additional visitation will be held Tuesday, August 7, 2018 at 10:00 am followed by the funeral service at 11:00 am at Holy Cross Greek Orthodox Church. Internment at Mt. Lebanon Cemetery will follow.
In lieu of flowers the family suggests memorial contributions to the Holy Cross Agape Fund.