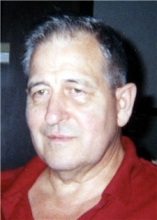 JAMES EDWARD ROBERTS '56
James Edward Roberts Jr. (aka Jim or Deak) age 80, died Thursday, January 2, 2020 in Surprise, Arizona. Born in Charleston, West Virginia, raised in Vienna, West Virginia, he had lived in Canton most of his life moving to Arizona in 2006.
Jim was a 1956 graduate of Greenbrier Military School, earned a BS from the University of North Alabama in 1960 and an MBA from The Ohio State University in 1980. He retired a Captain, after 24 years in the United States Naval Reserve. He was a former employee of Goodyear Industrial Products and Amoco Chemicals division of Standard Oil of Indiana and then started his own business, Jim Roberts Plastics.
He invented, patented, and marketed "Dish Scrubber", the detergent-in-the-handle dishwashing tool used throughout the World. Jim served over 13 years in the Akron Public Schools (Central Hower High School) as a volunteer assisting his wheelchair-bound first wife, Mary Jane (Hudak) Roberts, who was afflicted with Multiple Sclerosis. She taught mathematics and computer science and preceded him in death. He was a life member of the Greenbrier Military School Alumni Association, The Military Officers Association of America, The Naval Reserve Association, Navy League of the United States, The Reserve Officers Association and a member of the United States LST/Amphibs Association, the Army-Navy Union, American Legion, AmVets, and the Fraternal Order of Eagles. Jim enjoyed writing poetry and composed over 450 poems. He also wrote a book on his travels with his daughter across Canada and Alaska.
Survived by his wife, Carol Miller-Roberts, daughter, MaryKathryn (Kevin) Zuza, all of Goodyear, Arizona, and sister, Susan Kathryn Travis of Kentucky. Also preceded in death by his parents, James Edward Roberts and Iva Kathryn (Mangus) Roberts.
SERVICES ARE PENDING. In lieu of flowers donations may be made to National Multiple Sclerosis Society, 6155 Rockside Road, Cleveland, Ohio 44131 or Saint Sebastian Catholic Church Education Fund 500 Mull Ave, Akron, OH 44320.