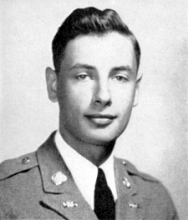 Jack Kendall Carte passed away at Good Living Assisted Living Home in Malden on August 10, 2017. Jack was born in Charleston on Fort Hill on July 21, 1923, followed minutes later by his identical twin, John Motley Carte. He was the son of Virgil and Elizabeth Carte. A 1942 graduate of Charleston High School, he also attended Greenbrier Military School for two years before enlisting in the U.S. Army in 1944. He served with the Alaskan Defense Command for two years.
He married Mary Sue Baldridge in 1950, and they raised three children in Charleston before he re-enlisted in the U.S. Army in 1963. He and the family then moved to overseas postings during the 1960s. The first posting was with Strategic Communication Command at Kagnew Station in Asmara, Eritrea; this was later followed by three years with the Defense Liaison Office at the U.S. Consulate in Hong Kong. He then went on to serve a one-year duty tour in Vietnam in 1970, returning to Fort Rucker, Ala., which remained the family residence until 2001. Retired with the rank of Sergeant Major from his last duty post in 1982, he served as Senior Enlisted Personnel Manager in the Office of the Deputy Chief of Staff, Personnel, Headquarters, U.S. Army Forces Command at Fort MacPherson, Atlanta, Ga. At retirement, he was awarded the Legion of Merit in recognition of exceptional meritorious conduct while serving there. He was also a recipient of a Bronze Star for his Vietnam service.
He was preceded in death by his wife, Mary Sue Carte (1999); son, Byron Kendall Carte (2004); sister, Ruth Townsend (2011); and brother, John M. Carte (2013). In later years, Jack and Betty J. Leonard, former high school classmates, shared several years of loving companionship together before her passing in 2010.
He is survived by daughters, Sharon L. Carte, South Charleston, and Connie Hirth, Washington, D.C.
Visitation will be from 1 to 2 p.m. Wednesday, August 16, at Bollinger Funeral Home on Lee Street, Charleston, followed immediately by a service at 2 p.m. Graveside service at Mountain View Memorial Park will be a private service for the family.
The family requests, in lieu of flowers, donations can be made to Kanawha Hospice Care. The family expresses its heartfelt gratitude to Jack's caregivers at Good Living for the kindnesses and care he received there.