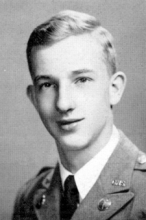 Harry Wade Basham '50, a long time South Charleston resident and former Charleston businessman, passed away at his hoe on October 15, 2019, after a long illness.
Born on July 12, 1932, in Charleston, he was the son of the late Luther C. and Pearl Basham. He graduated from the Greenbrier Military Academy in 1950 where he played several sports. He served I the U.S. Army specializing in Army Intelligence. His entire career was spent as a employee the business owner of West Virginia Tractor Company, a successful business his father had started I 1936 where he worked with his three brothers, Calvin, Donald, and Burke, who preceded him.
He was also predeceased by his loving wife Donna Burgess Burton, who passed away in August, 1999.
Harry enjoyed outings with Donna and their friends at Kanawha Country Club and various trips and outings with the WV Contractors Association (which included his brothers and their wives). He enjoyed bowling but he was a avid golfer and he was good at it. Harry was a member of the Elks ad enjoyed that fraternal interaction until fairly recently.
Harry is survived by his biggest and best accomplishment, his family He is survived by a daughter, Debbie of South Charleston, and a son, Steve (Kathy) of Hamlin, as well as four grandchildren: Danny (Verna) of Louisville, KY, Kandace (Nick) Ansah of Hamlin, Jamie of Lewisburg, WV and Will (Amanda) of Milton, WV. He also leaves behind 11 great-grandchildren: Drew, Gabe, Nick, Noah, Bella, Nate, ayah Judah Tevah and Charlie as well as several special nieces and nephews and cousins.
A service to honor Harry will be held at 11a.m Saturday October 19 at Snodgrass Funeral Hoe South Charleston with Pastor Will Basha officiating. Entombment will follow in Sunset Memorial Park, South Charleston.
Memories of Harry may be shared by visiting sodgrass-funeral.com and selecting the obituary.