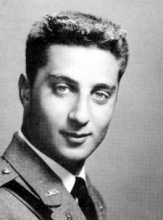 Farris D. Sayer passed away on Friday, February 22, 2019, after a long illness. He was 83 years, the son of David F. Sayer and Zakia Sayer. He graduated from The Greenbrier Military School in 1954, and later from the Ohio State University. Owner of Sayer Brothers department stores throughout West Virginia.
In addition to his parents, he was preceded in death by his sister, Marlene Nicholas, and brothers, David F. Sayer Jr. and Alex F. Sayer II.
Farris is survived by his sisters, Lorraine Ghareeb (Fauzy) and Christine Husson (Bruce), as well as his nephews and nieces, Nicky Nicholas, Jacqueline Mason (Jason), David Husson (Mindy), Jonathan Husson, Christin Husson, Alex Ghareeb (Amilia), and all his many great - nephews and great - nieces whom he loved.
He will be remembered as a wonderful brother, a devoted son, and a great Uncle. The family wishes to give special thanks to all of his loving caregivers who provided him great comfort.
The Funeral will be held at Village Chapel Presbyterian Church, 3818 Venable Avenue, Charleston, WV 25304. Visitation will be on Friday, March 1, between 12 to 1 p.m. The funeral service will begin at 1 p.m. with burial to follow at Sunset Memorial Park, South Charleston.
Flowers may be sent to Barlow Bonsall Funeral Home, 1118 Virginia Street E., Charleston, WV 25301.
In lieu of flowers, you may donate in memory of Farris to St. George Orthodox Cathedral, P.O. Box 2044, Charleston, West Virginia 25327 or Village Chapel Presbyterian Church.
The family appreciates your prayers and support.
Barlow Bonsall Funeral Home, Charleston, has been entrusted with the arrangements.
Facebook
Twitter
Email
Print
Save