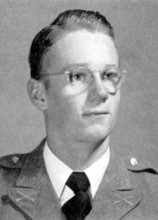 Emerson H. Pepper, age 89, of Selbyville died Thursday, October 20, 2016 at Bayhealth Medical Center/ Milford Memorial in Milford. He was born in Selbyville and was the son of the late Homer and Emily Marie (Pusey) Pepper.
Emerson graduated from Greenbriar Military School in West Virginia. He had been a general manager at the former H & H Poultry in Selbyville. He later sold Real Estate and was a member of the Realtor Association. He was a member of Salem United Methodist Church in Selbyville and a former member of the Rotary Club.
He is survived by a daughter, Emily M. Morris and husband Steve of Selbyville; three sisters, Elizabeth McCabe of Bishopville, Mary Lou Johnson of Selbyville and Jeanne Moore of Newark; two grandchildren, Matthew J. Thomas and Chloe M. Morris.
He was preceded in death by his son, Emerson H. Pepper Jr., his wife, Mary McCabe Pepper in 2000 and a brother, Hance J. Pepper.
A graveside service will be held at 11am on Saturday, November 5 at Redmen's Cemetery in Selbyville. Following the graveside service, friends are invited to Roxana Fire Hall for a Celebration of Life.
In lieu of flowers, donations may be made to Delaware Veterans Home, 100 Delaware Veterans Blvd, Milford, DE 19963.
Condolences may be sent by visiting www.bishophastingsfh.com.
Published in The Daily Times on Oct. 26, 2016