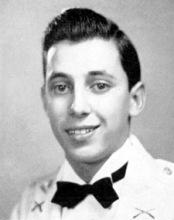 EDWARD SALIM YARID, 97, of Lewisburg, passed away peacefully at the Peyton Hospice House on March 31, 2020.
He was born in Lewisburg, on Friday the 13th in December 1922 and, except for college, lived his entire life there. He was a devoted husband and a wonderful father and grandfather.
He attended high school at Greenbrier Military School in Lewisburg and, after graduation, joined the Army where he trained in Hawaii during World War II.
After the war, he took advantage of the G.I. bill and graduated from West Virginia University, where he joined the Kappa Alpha Order. He then went to New York University for a Master's in business. He came back to Lewisburg to work with his mother and father at Yarid's Clothing Store.
In 1957, while on a trip to Miami, he met his soon to be wife, Joan Battah. After a long distance romance through the U.S. Postal System, they married in 1958 and he brought her back to Lewisburg. They had four children and settled into their life of family and retail.
Yarid's Department Store was a very important part of Eddie's life. He and his mother, Dora, were buyers for the ladies clothing, and his brother, Munir, was buyer for the men's clothing. They would travel to New York numerous times per year to bring back the latest fashions to the ladies of West Virginia.
Eddie loved Lewisburg and was a major contributor to the revitalization of the town. Eddie and Munir were one of the founding members of "Taste of Our Town" (TOOT) which became an instrumental fundraiser for Carnegie Hall.
He was also a member of the Greenbrier County Board of Education, a member of the Board of Directors for Davis and Elkins, an Elder and Deacon at Old Stone Presbyterian Church, and was awarded a Lifelong Member of the Lewisburg Rotary Club. In 2015, when the West Virginia School of Osteopathic Medicine christened the Greenbrier Military School Museum, Eddie was celebrated as the oldest living member of GMS.
He loved WVU football and basketball and would proudly wear his WVU baseball cap during all his travels. On several occasions he would make new friends, as his baseball cap was a catalyst for conversations about his beloved West Virginia.
He held a special place in his heart for his caregivers, Angela Radford, Libby Kincaid, Sandy Alderman, and Beth Humphries. He also was extremely fond of his girls in the Yarid's Lewisburg location. After Eddie retired, he would visit them daily, take them the mail, and give them advice on the business.
Eddie was preceded in death by his parents, Samuel and Dora Yarid; his brother Munir; and his son, David.
Survivors include his wife of 62 years, Joan, and his three daughters, Dora OBrien (John), Katherine Juker (Tony), and Emilie Couch (Chris); his seven grandchildren, Jessica and Sean OBrien, Anthony and Sophia Juker, and Sam, Alex, and Rachel Couch; and his sister-in-law, Yvette.
There will be a memorial service when we are able to celebrate his life with all the glory he deserved and with all of the people he loved. We ask that everyone who has a special story about Eddie or their favorite memories of Yarid's to please share at info.yarids@gmail.com.
In lieu of flowers, please send donations to The David Yarid Scholarship Fund, c/o The Greenbrier County Schools Foundation, 400 N. Lee Street, Lewisburg, WV 24901; The Old Stone Presbyterian Church; or Peyton Hospice House in Lewisburg.