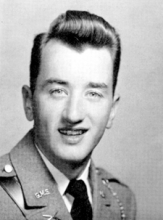 Douglas Harry "Butch" Jennings Class of 1954/5
Douglas "Doug" Harry Jennings Sr. was born in Bluefield, WV on August 22, 1935 to Harry Kenneth and Eleanor Sally Jennings. Doug was preceded in death by his loving wife, Carol, of 58 years. He is survived by his son, Douglas H. Jennings (Debbie) of Sarasota, FL; and daughter Carolyn Hawthorne of Jacksonville, FL. Three granddaughters, Vanessa, Stephanie, and Sally; and his sister, Patricia (Ralph) Pike of Baton Rouge LA, nephew Brian (Deanna) Pike of North Palm Beach FL and niece Charlene (Joe) Pryor of Oklahoma City, OK.
Doug attended and graduated from Greenbrier Military School in Lewisburg, WV. After graduation, he moved to Orlando, FL where he met the love of his life carol Joyce Jennings (Sauerbraun). They were married for 58 wonderful years and had two children. Beyond his love for his family, Doug was extremely fond of the farm he had in Hillsville, VA. This is where he and Carol raised cattle and spent a majority of their vacations. The Grainger/Jennings farm was his second love. Doug was also an avid sportsman who enjoyed fishing, hunting, boxing, and football. He was a world-class huntsman and a member of the Safari Club International.
Doug was a distinguished member of the United States Army Military Police during the Korean Conflict. He was stationed at Fort Gordon, GA from 1956-1957. Doug was an astute businessman. He attended Rollins College where he focused his studies on business. In 1955, he attended Cincinnati College of Mortuary Science. He held his internship at Carey-Hand Funeral Home in Orlando FL. Upon coming a licensed Funeral Director, he moved to Hollywood, Florida where he worked for Wadington Funeral Home.
In 1963, Doug opened his first funeral home (Jennings Funeral Home) in Ft. Lauderdale, Florida . Jennings Funeral Home expanded to a second location in Tamarac, FL in 1969. He continued to grow his businesses with the purchase of Lakeland Memorial Funeral and Good Sheppard Memorial Gardens in Ocala, FL In 1992, Doug sold his funeral home in South Florida and together with his son Douglas, operated Jennings/Archway Funeral Home and Good Sheppard Memorial Gardens until it was sold in 1997. In addition to his extensive career in the funeral industry, Doug was also a proficient real estate developer who had a keen eye for investment as well as a founding board member of Landmark Bank in Ft. Lauderdale, FL.
Doug was also generous with his time, as he was actively involved in community service and the growth of volunteerism through various service clubs in Florida. He was a proud 32nd Degree mason (Doric Lodge) in Ft. Lauderdale, York Rite, active member of the Shrine Club, member of the Royal Order of Jesters Court 88; a Rotarian at the Downtown FT. Lauderdale Chapter he was also a member of the Angler's Club in New Smyrna Beach as well as the New Smyrna Beach Yacht Club.
A "Celebration of Life" will be held at Good Shepherd Memorial Gardens on Friday, April 27, 2018, from 12 – 2P.M. with a short service to follow.
Doug returned to Greenbrier for the 1955 school year for his freshman year in college. He also was Cadet Major for that school year
Date of death is not available at this time.