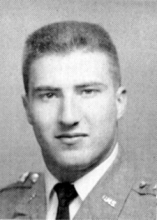 DEWEY COSBY BALLENGEE, 78, of Huntington, W.Va., passed away Monday, February 8, 2016, at the Emogene Dolin Jones Hospice House. Funeral services will be conducted at 2 p.m. Thursday, February 11, 2016, at Steele Memorial United Methodist Church with Rev. Kevin Lantz and Rev. Ralph Sager officiating. Burial will be in Ridgelawn Memorial Park, Huntington.
He was born July 9, 1937, in Charleston, W.Va., a son of the late Dewey C. and Lillian Sparkes Ballengee. He was preceded in death by a brother, Byron Ballengee and three sisters, Ruth Lee, Nina Angle and JoAnn Cobb.
He was retired from Nationwide Insurance, was a veteran of the US Army, and was a member of Steele Memorial United Methodist Church. He attended Greenbrier Military School as a post graduate during the school year of 1956.
He is survived by his wife Sue Hunt Ballengee; one daughter, Nancy Ballengee (Doug Ward) of Culloden, W.Va.; two sons, Greg (Tammy) Ballengee of Barboursville, and Dewey (Leslie) Ballengee of Huntington; seven grandchildren, Tiffany (Jeremy) Moore, Scott Ballengee, Cody Ballengee, Alexis Ballengee Ward, Brooke Ballengee, Brittany Ballengee and Quinnlyn Ballengee; and one great-grandson, Jace Moore.
Memorial contributions may be made to the Emogene Dolin Jones Hospice House, 3100 Staunton Road, Huntington, WV 25702.