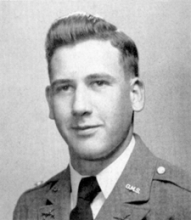 Christopher Rusk Walkup, 82, of White Sulphur Springs, WV, died peacefully at home on Saturday morning, September 5, 2015, after battling COPD.
Born March 25, 1933, at Renick, WV, he was a son of the late Harry Lepps and Ollie Mae Driver Walkup.
He was a member of the First Presbyterian Church in White Sulphur Springs and was a Korean conflict veteran. He was a 1952 graduate of Greenbrier Military School in Lewisburg, WV, and attended WVU, joining Kappa Sig fraternity until he joined the army.
After returning from service, he gained employment with Capital Finance in Lewisburg, then First National Bank in Ronceverte, WV, and the Bank of White Sulphur Springs. He was President of the Bank of White Sulphur Springs for many years and president emeritus of First Citizens Bank of White Sulphur until retirement. Chris was past president of West Virginia Bankers Association in 1979 and 1980 and was past president of the White Sulphur Springs Industrial Development Incorporation. He was a member of the Hillsboro Mason Lodge in 1956, then was a member of the Allegheny Lodge at White Sulphur Springs, Chris was a member of the Elks Club , holding almost every local position and was past president of the Rotary International of White Sulphur Springs and served two terms ass president of the Chamber of Commerce. He was past chairman of the Greenbrier County Democratic Committee and was remembered for his undying support of WVU Athletics, especially football. Chris was an avid golfer and could always be found on the golf course with his buddies.
Other than his parents, he was preceded in death by his stepmother , Ethel "Blondie" Walkup ; his paternal grandfather, Robert "Bob" James Walkup in 1947 ; paternal grandmother , Sadie McClung Walkup in 1958; and a half brother, Darrell Blake. Survivors include his wife of 51 years, Frankie H. Walkup at home' daughters, Sadie Ann Prichard (Allen) of Richmond, VA, and Victoria Rusk Walkup-Pierce (Eric) of Orlando, and Christopher Allen Prichard and Scott Franklin Prichard, both of Richmond, and Christopher Rusk Pierce of Orlando.
Graveside services will be conducted at 1 PM on Thursday, September 10, 2015 at Morningside Cemetery at Renick, WV, for family and close friends.
Visitation will be form 6-8 PM on Wednesday, September 9, at the Shanklin Funeral Home in White Sulphur Springs.
In Lieu of Flowers, donations may be made to a charity of choice.
Shanklin Funeral Home is serving the family.
Note: Chris attended GMS for four (4) years and graduated as a 1st Lt., played JV football, served as editor-in chief of the student newspaper, member of the yearbook staff, Quill & Scroll, Hi-Y, Honor Court and Boot and Spur.