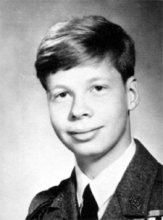 Per WV NEWS and Rex Tennant II
SALEM — Christopher Brent Lilly (GMS Class of 1972) passed away peacefully on April 29, 2020 at Salem Center.
A life-long resident of West Virginia, he was born on July 22, 1953, and grew up in the Huntington/Charleston area.
He graduated from Greenbrier Military School and attended West Virginia University.
He was the son of the late Dr. Donzie Lilly and Mary Catherine Persinger.
He enjoyed fly-fishing and climbing around the state, The Beatles, and taking his husky Stella to the park.
He is survived by his daughter, Kathrine; and wife, Lisa Lilly; and brothers, Donzie "Chip" Lilly, Michael Persinger and Sunny Persinger.
The family would like to thank the nursing staff at Salem Center, River Oaks, and Clarksburg Nursing and Rehab for their care and support.