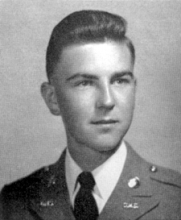 Charles Randolph "Tinker" Bailey, Sr. 93, of Mullens, passed away on Friday, September 27, 2019 at the VA Medical Center, Beckley.
Born January 15, 1926 at Mullens, he was the son of the late Walter Nash and Edna Mae (Hughes) Bailey.
Tinker was a lifelong resident of Mullens and active in his business, civic, social, and religious associations including the Mullens Masonic Lodge, Gideons, American Legion, and Mullens Area Chamber of Commerce.
Tinker attended Mullens Public Schools until transferring to, and graduating from Greenbrier Military School prior to joining the Army 88th Division "Blue Devils" returning from WWII he attended General Motors Institute in order to manage the family business, Mullens Motor Company. After closing the business in the mid-1980s he was an insurance agent until he took retirement on his beloved farm near Alderson, WV and continued to manage the dealership buildings as Bailey Apartments until his death. Although throughout his lifetime he attended Presbyterian, Methodist, and Baptist churches, he remained true to his Presbyterian beliefs all of his life.
In addition to his parents he is also preceded in death by by his first wife, Janis Dooley Bailey and their only son, Charles R. Bailey, Jr.; three brothers, Donald P. Bailey, Ronald P. Bailey, and Nash "Babe" Bailey, Jr.; and his second wife, Barbara Kid Sikes Bailey, with whom he had no children.
Those left to cherish his memory include his only daughter, Dana Bailey Long.
Services will be 12 Noon, Saturday, October 5, 2019 at Tankersley Funeral Home Chapel, Mullens with Rev. Sue Lowther and Pastor John Morgan officiating. Burial will follow in Sunset Memorial Park, Beckley.
Friends may call one hour prior to services Saturday at the funeral home.
Members of the Mullens and Beckley Masonic Lodge will serve as pallbearers.
Military graveside rites will be conducted by the Wyoming County Honor Guard and Masonic graveside rites will be conducted by the Mullens Masonic Lodge #151 A.F. & A.M. and the Beckley Masonic Lodge #95 A.F. & A.M.
Online condolences may be expressed to the family at www.tankersleyfh.com.
The family of Charles "Tinker" Bailey is being cared for by Tankersley Funeral Home, Mullens.
To send flowers to the family of Charles R. 'Tinker' Bailey Sr., please visit Tribute Store.