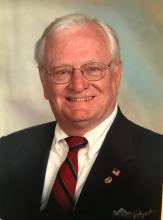 BROADDUS, William Lee , Jr., 91, of Hopewell, Va., died January 17, 2023.
A lifelong resident of Hopewell and Prince George County, Bill was the son of William Lee Broaddus and Evelyn Pleasants Beckham. He attended Greenbrier Military School, the University of Virginia, and served in the U.S. Navy. After returning to Hopewell, he led W.L. Broaddus, Inc. (later Commonwealth Industrial Services) which was founded by his father, co-founded Plant Food Products, Inc., and was active in the Rotary Club.
Bill is survived by his sister, Elizabeth Broaddus Kelly; his children, Meriwether, Molly and Warner; and his grandchildren, Liza (Matthew Wheeler) and Catharine Dent, and Wilton and Christopher Stubbs. He is also survived by beloved nieces, cousins and extended family.
Interment services will be held on Saturday, February 11, 2023 at 11 a.m. at Merchants Hope Memorial Gardens. The family thanks Rosetta Banks and the wonderful staff at Sitter & Barfoot Veterans Care Center and the Richmond VA Medical Center for their care and kindness to Bill and our family. In lieu of flowers, please consider a donation in Bill's memory to the Historic Hopewell Foundation or the Navy-Marine Corps Relief Society. Condolences may be registered at www.jtmorriss.com.
Published by Richmond Times-Dispatch on Jan. 22, 2023.