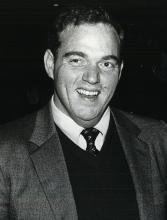 Obituary of William Glasscock Boyle
William "Big Lou" Glasscock Boyle, 72, of Kingwood, passed away peacefully on February 1, 2022 at Mon Health Medical Center in Morgantown after a brief illness, surrounded by his loving and heartbroken family.
Born in Morgantown on October 2, 1949, Bill was the son of the late John P. (Jack) and Carolyn Glasscock Boyle, both longtime Morgantown residents. Bill was the great grandson of Monongalia County's only governor, William E. Glasscock. Known as the family's pillar and patriarch, He is survived by his devoted and loyal wife of 47 years, Karen McCabe Boyle, and their four children: John P. Boyle II (Kyla) of Morgantown, grandsons Jack and Anthony Boyle; Dr. Kate Boyle Wooton (Jody) of Lewisburg, WV, grandchildren Berkeley, Bo and Baylor; Caroline Boyle Lalli (Trapper) of Chapel Hill, NC, grandsons Decker and Ledger Lalli; and Sarah Boyle (Dan Romain) of Morgantown; Survivors also include two brothers Mark E. Boyle (Mary) and their children Brienne Caranasos (Thomas), Ryan Boyle, and Tyler Boyle (Megan); brother and best friend, Edward P. Boyle II (Kathy), of Morgantown, and their children Shelby Boyle, Cassidy Albino (Rob), Lilly, and Logan Krishock ( Katie Lillard) and one sister Ann (Vicky) Boyle Colon (Juan), Ocoee, FL, and children Carly Verucchi (Vincent), Christopher and Michael Colon; along with a host of loving cousins, nieces, nephews and friends.
Bill Boyle graduated from Greenbrier Military School in 1967. He was a lineman for the "Fighting Cadets" and the salutatorian of his class. While at Greenbrier Military, Bill was promoted to 1stSgt and placed in charge of training and discipline for Company D, which included his freethinking, slightly rebellious cousin Patrick. After graduation Bill attended WVU, where he was member of the WVU Rifle team during his freshman year. He obtained a degree in Mining Engineering in 1972, graduating first in his class.
Summers were spent at the family cottage in Kingwood and filled with Little League baseball, (Bill covered 1st base for Hartman Coal "like buckwheat covers Preston County", a houseful of noisy cousins, raucous cards playing, fishing for rainbow trout, hunting for golf balls, and waging cut-throat games of kickball and wiffle ball. When Bill, a left-handed slugger was at bat, everyone in the outfield dropped back, well into the neighbor's yard, hoping to catch a high fly and beat him home. For the rest of his life, Bill remained devoted to his beloved Preston County and the close-knit, God-fearing, "Free State of Preston" community he called home.
A man of few words but many talents, Bill had a beautiful singing voice and enjoyed playing the organ before dinner. He was first mentored in the coal business by his unforgettable grandfather Ed Boyle, who is depicted in home movies accompanying his 7-year-old grandson into a mine shaft. Thus began Bill's lifelong fascination with the coal industry, which was later reinforced by his father Jack, who, after endless badgering from his first born, finally relented, allowing his 12-year old son to work underground – a decision quickly reversed by Bill's grandmother Eleanor Boyle. ("Are you crazy, Jack?!") Bill, was subsequently reassigned and paid 60 cents an hour to screen coal and pitch hay, which taught him the value of hard work – and a dollar.
A devoted husband and father, Bills' first love was his family but the family business (where he was affectionately known as "The Chairman") was a close second. First coal, then top quality construction, Bill, in his capacity as the Chairman of the Board of Preston and Mountaineer Contractors, always considered the company's 350+ employees, to be part of his extended family and they were treated that way. Like the company he led for decades, Bill Boyle was "founded on integrity and built on performance." In addition, Bill served on the Board of Directors at Albright National Bank for many years.
Bill also loved West Virginia and is described by more than one admirer as "the most generous person I know". But most people never knew it because he gave quietly from his heart, never wanting any recognition. He was very spiritual, too, according to Priscilla Weidenschlager SJ, a Brooklyn-born Catholic nun who "came to West Virginia to work with the people". And he was kind, "a little shy and very funny." During her 15-year stay in Preston County, Sister Priscilla said you could ask Bill Boyle for anything, and he'd always say yes. "He was a great gift to the community."
Lastly, we want to thank Ed Boyle, his best friend and longtime business partner for his unwavering support, love, and loyalty. The bond Bill & Ed shared was indescribable.
So he returned home to his father, And while he was still far off, his father saw him coming. Filled with love and compassion, he ran out to his son. Luke 15:20.
Friends and family will be received at St. Sebastian Roman Catholic Parish, 322 E. Main Street, Kingwood, WV, on Tuesday, February 8, 2022, from 3 – 8 p.m. The body will be moved to St. Mary Roman Catholic Church, 3334B University Avenue, Star City, WV on Wednesday, February 9, 2022, for friends and family to be received from 10 a.m. until the Mass of Christian Burial to begin at noon with Rev. Andy Switzer as celebrant.
Hastings Funeral Home Omega Crematory is entrusted with arrangements. A family graveside committal will follow at a later date.
The family would like to sincerely thank all of the management and medical staff at Mon Health Care for their extraordinary care and compassion. The family would also like to send a heartfelt thank you to longtime family friend, Dr. Fred Gabriele for his on-going support and wise counsel.
In lieu of flowers, the family encourages donations be made in Bill's memory to Mon Health Foundation, 1200 JD Anderson Drive, Morgantown, WV 26505.
Send condolences online at www.hastingsfuneralhome.com
https://hastingsfuneralhome.com/tribute/details/3878/William-Boyle/obituary.html#tribute-start