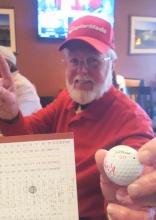 Craig, age 67, passed away on March 18, 2021, after a long battle with cancer. Craig was a devoted husband and father who deeply loved his family and his friends. Craig never met a stranger, loved to tell jokes, and had many hobbies. Craig loved to hunt and fish. Craig also had a passion for the game of golf and was an excellent left-handed golfer and competitive champion.
Craig is survived by his wife of 38 years, Shryl, son Matt, daughter Caron, son Adam "Hunter," son-in-law Rob, and grandchildren Camden and Kaylyn. Craig is also survived by his parents Norma and Jerry, brother Bruce, sister-in-law Theresa, their children, Jackie and Josh, and mother-in-law Virginia Thompson. Craig was preceded in death in 2015 by his father-in-law and dearest friend, Jim Thompson.
A memorial service will be held on April 10, 2021 at 1:00 pm at The Vineyard Church, 4616 2nd St. NW, Albuquerque, NM 87107. After the service, a reception for family and friends will be held at the Dragon Horn, 2906 Juan Tabo, NE, Albuquerque, NM 87112.
The family extends much gratitude and thanks to the many devoted healthcare and hospice workers who cared for Craig during his illness. In lieu of flowers, a donation in Craig's memory can be made to the American Cancer Association or Heartland Hospice.
https://www.legacy.com/us/obituaries/name/timothy-scates-obituary?pid=198300064&fbclid=IwAR1r-RF11RXdaTJ-Ihb93aAmUw47aZaW844pBSf8s2dGHp4tGF-VqMwAsP0