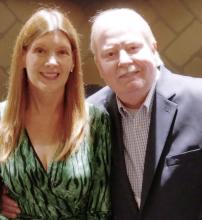 Obituary for Tom Hill
Thomas S. "Tom" Hill, 72, of Hurricane, WV, formerly of Huntington, WV, passed away Thursday, December 1, 2022, at his residence.
Tom was born September 19, 1950 in Long Island, NY a son of the late August Schneider and Nancy Stubblefield Hill. He was also preceded in death by his wife, Betty Davis Hill and his mother-in-law, Rosemary Davis. He graduated from Greenbrier Military School and attended Marshall University and University of Charleston. Tom was retired from Moses Automotive and had investment properties. He was a member of Forrest Burdette United Methodist Church. Survivors include: a son, Dr. J.B. (Jennifer) Marinacci of Hurricane; a beloved sister, Helen "Cookie" Maser of Charlotte, NC; a sister-in-law, Vicki Rutherford of Milton, WV; two brothers-in-law, Mike Davis of Orange, CA and Keith (Sally) Davis of Huntington; three grandchildren whom he adored, Alyssa Marinacci, Andrew Marinacci, and Addley Marinacci; a niece, Catherine (Scott) Phelan of Fort Mill, SC; a nephew, John (Corey) Maser of Apex, NC; two great nephews, Ryan Maser and Alex Thomas Maser, both of Apex; and numerous friends, including a very special group of golf buddies. Visitation will be from 6:00 pm to 8:00 pm Monday, December 12, 2022 at Chapman's Mortuary, Huntington and one hour before the service Tuesday at the church. Funeral services will be conducted 1:00 pm Tuesday, December 13, 2022, at Forrest Burdette United Methodist Church, 2848 Putnam Avenue, Hurricane, WV, with Pastor Joe Kenaston officiating. Burial will be in Spring Hill Cemetery, Charleston, WV.
In lieu of flowers, the family requests donations be made to one of his three favorite charities St. Jude's Children Hospital, Huntington City Mission, or Forrest Burdette Memorial United Methodist Church. Online condolences may be sent to the family at www.chapmans-mortuary.com