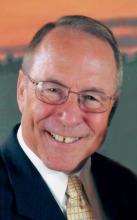 Obituary
Thomas Richard "Tom" Farrington, 79, of Chesterfield, Missouri, passed away Saturday, December 19, 2020, at home surrounded by his family.
He was born October 10, 1941, in Columbus, Ohio, to Robert and Catherine Lafferty Farrington. He and Saundra Birk were married December 9, 1989, in St. Louis. Saundra is the daughter of the late Clement and Irene Birk.
Tom served in the U.S. Air Force during the Vietnam War from December 1961 to September 1965. He also received a BS and MS in Engineering from Arizona State University.
Tom worked at McDonnell Douglas Corp in St. Louis, where he and Saundra met, for 17 years before opening his own Investment Management firm, Heartland Financial Services, in 1994. In 2004 he moved to Nashville, TN to work for PACCAR Inc. as a Six Sigma Master Black Belt, and then back to St. Louis in 2011, to finish working for Barnes Jewish Hospital in their Clinical Services Improvement organization.
Tom loved woodworking, house remodeling projects, and landscaping. He has had the best looking yard in the subdivision since 2012.
He was a member of Lord of Life Lutheran church in Chesterfield.
Loving survivors include his wife of 31 years, Saundra Farrington of Chesterfield; two siblings, James "Jim" Farrington of Huntington, West Virginia and Mary Farrington of Portland, Oregon; and a brother-in-law, Gary (Sandy) Birk of Creve Coeur.
He was preceded in death by his parents.