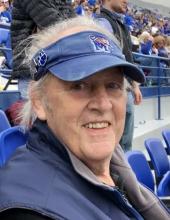 Robert Thomas "Tom" DeHart, Jr., 79, entrepreneur, creator, athlete, and bigger than life, Tom DeHart, 79, died Tuesday July 18th at his daughter's home in Oxford, MS.
Born July 27, 1943 in Philadelphia, PA, raised in Wenonah, NJ, Tom was always involved in sports. Growing up Tom played little league baseball and football. The family treasures Tom's ball glove and football pads that are mementos of that time he spent with his brothers as child athletes. Tom graduated from Woodbury High School, where he was a state wrestling champion and played high school all-american football. It was football where recruiters for Memphis State noticed Tom's natural skills. Tom would move to Memphis where he would play on the offensive line 1963 - 1966 while earning his Bachelor of Science degree. Tom would return to Memphis in the late 60's where he was a general assistant and offensive line coach 1967 - 1970 for the Tigers.
It was while he was a student at Memphis that Tom met Sandra on a blind date, and it was love at first sight for both of them. After more than 58 years of marriage, Sandra passed just days before Tom, and he re-joined her on what would have been her 79th birthday. Tom and Sandra were die-hard Tiger fans, holding season tickets for decades. If they couldn't be at the game,
they spent every Saturday watching the game on TV while at the same time listening to the radio play-by-play…they always wanted to know how their Tigers were doing!
Services for Tom and Sandra will be held at a later date.