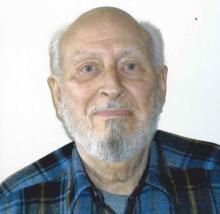 Richard Otis (Dick) Carden, 92 of Richmond, died Tuesday September 12, 2023. He was the
retired editor and publisher of The Virginia Engineer magazine.
He is survived by his wife, Georgeen Dahlem Carden; four children from a previous marriage,
Richard II, who preceded him in death (Patty), of Hanover; W. David (Susan), of Cumberland; Susan
Baskette (Roland), of Cumberland; John Earl (Jan) of Cumberland; and two step-children, Stephen
Garfield, of Texas, and Bonnie Garfield (Keith), of Pennsylvania. He is also survived by six
grandchildren, Jessica Sharp, Elizabeth Carden, Isaac Porter Carden, Robert K. Lipscomb, IV, Sara
Welton and Megan Richardson and step-grandchildren, Leah Gonzalez and Joel Garfield. He has nine
great-grandchildren and four step great grandchildren.
Born in Richmond on January 19, 1931, his early years were in Victoria, VA, where his father,
Roscoe, was a lawyer. His mother, Francis Otis, was a retired Director of Public Welfare for the City of
Hopewell.
An honors graduate of both Greenbrier Military School (1949) and Washington and Lee
University (1952), he later earned a master's degree at the University of Richmond.
He was Chief of the Suffolk Bureau for the Norfolk Ledger-Dispatch, and ended a 10-year
newspaper career to become the first Director of Public Relations for the Virginia Retail Merchants
Association. He later became Executive Director of the Virginia Society of Professional Engineers, a
position he held until he resigned in 1972 and became owner/publisher of The Virginia Engineer. After
retiring, he built and flew his own airplane.
He and his wife lived in Cumberland County for more than 40 years before moving to the
Masonic Home of Virginia in 2016. An active Episcopalian, he served as both Parish and Cure Warden;
he was a past president of the Cumberland Farm Bureau and the Farmville Chapter of the Experimental
Aviation Association, and served on the boards of the Cumberland Public Library, Cumberland County
Meals on Wheels, and the Cumberland Community Christmas Mother. He was a Past Master of
Cumberland Masonic Lodge and was a District Deputy Grand Master of the Grand Lodge of Virginia.
After moving to Richmond, he became active in the Varina Food Pantry, an outreach activity of Varina
Episcopal Church.
A memorial service with reception following will be held at the Masonic Home of Virginia, 500
Masonic Lane, Richmond,VA 23223 on October 2, 2023 at 11:00 am. Interment will be at Grove
Church Cemetery, Old Buckingham Road, Cumberland, VA 23040 on October 3, 2023 at 11:00 am.
Heading west on Old Buckingham Road (Rt 13) from Powhatan,VA the cemetery is located on the left
just past Sunnyside Road. Heading east on Old Buckingham Road (Rt 13) to Powhatan,VA from
Cumberland Courthouse, the cemetery will be on the right just past Strawberry Hill Road.
In lieu of flowers, memorial contributions may be made to Varina Episcopal Church Food
Pantry, 2385 Mill Road Henrico, VA 23231 or the Masonic Home of Virginia, P O Box 7866
Richmond, VA 23231.