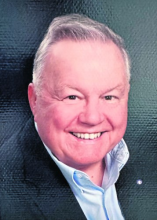 PAUL LEWIS TURMAN "Mayor T" went to see his Savior on August 3, 2023. He was preceded in death by his mother and father, Mary and Bill Turman, and his mother and father-in-law, Minnis and Gladys Yeager. He also was preceded in death by his brothers-in-law, Jack and Chuck Yeager. He is survived by his loving and dedicated wife Karen of 60 years; his two sons, Paul Jr. (Lorri) and Tom (Patty) and his daughter Teresa (Rob Blake); his brother and sister-in-law, Waymond (Peggy), his sister, Donna Jefferson, and his sister-in-law, Barbara Yeager; his grandchildren, Megan (Nick) Anuszkiewicz, Bryan (Katy) Turman, Laura and Lee Blake, William and Olivia Turman; his great-granddaughter, Emery Ann, who brought him so much joy, and his great-grandson, Benjamin Paul, who is on the way; as well as many special nieces and nephews.
Paul was a graduate of Barboursville High School where he served as the Class President of 1959. He played football, baseball, basketball and wrestled for the Pirates. Everyone affectionately called him "Termite" and the name stuck for all his life. Afterwards, he was off to Greenbrier Military Academy. He then went to Marshall University where he received an ROTC scholarship. He proudly played for his beloved Thundering Herd football team that he loved supporting from the stands and later from his recliner. He enjoyed recounting how he never dropped a punt during his time on the team. He served his country in the United States Army as a helicopter pilot in the Vietnam War and was promoted to the rank of Captain. Following his service he worked at his family's construction company, Turman Construction. During this time, he served as the President of the Contractors Association of West Virginia. Paul was particularly proud of his service to his community that he loved as both a Barboursville City Council member and the Mayor of Barboursville for 14 years. He was a member of Steele Memorial United Methodist Church and a member of Gideon International where he served his Savior in this ministry.
Donations in memory of Paul can be made to the Gideon International or the Huntington City Mission. Online condolences may be expressed to the family at www.timeformemory.com/wallace.