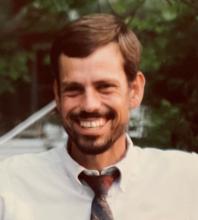 Dr. Nathaniel "Nat" Noble Harris II of Lewisburg, WV, passed away peacefully on December 16, 2022, with his daughter, Kate Harris, and devoted partner of 15 years, Charlotte Baldwin, by his side.
Nat was born in Ronceverte, WV, on December 14, 1948, to the late Carolyn Moore Harris and the late Robert Miller Harris. He was the youngest of five siblings, including Robert "Bob" Harris, Shirley Wester, William "Bill" Harris, and Margaret McClain, all of whom preceded him in death.
Nat's formative years were spent by the Greenbrier River at Camp Shaw-Mi-Del-Eca, where he refined his basketball skills and learned to fish and trap wild game, including skunk, raccoon, and fox. To the delight of his mother, many of these became pets. The last several years of his time spent at camp were as a camp counselor. He most enjoyed being a canoeing and swimming instructor, as well as a wildlife mentor.
Nat attended Greenbrier Military School in Lewisburg from 1962-1966, where he played varsity basketball and averaged double figures and led the team in assists. After graduation, he attended Centre College in Danville, KY, where he earned bachelor's degrees in Biology and Chemistry in 1970. Nat enrolled in the National Guard shortly after his college graduation and completed his basic training in Fort Still, OK, where he trained in artillery. He was a platoon leader and earned an expert distinction in riflery with an M16 at 300 yards.
He then attended West Virginia University for his master's degree in Freshwater Ecology. He used his degree to work for the Kentucky Department of Natural Resources, where he supervised strip mine revegetation research and oversaw the state's Wild Rivers Program.
In 1974, he enrolled at the University of Louisville School of Medicine. He returned to Lewisburg after completion of his residency in 1981 and served as an Emergency Physician for four years. He was also the medical director of EMT services for Lewisburg and White Sulphur Springs during that time. He joined his uncle, Dr. Houston Moore, and formed Lewisburg Family Practice Center in 1983, where he proudly served the local community as a Family Physician for nearly 20 years. He took great pride in his profession and was endlessly dedicated to the well-being of his patients.
Nat was an outdoorsman who enjoyed fishing for smallmouth bass and red eye, as well as hunting grouse, turkey, and deer. He was also an avid sportsman who never missed a Mountaineer game and enjoyed golf, having been an active member of the Elks Club for 42 years. Nat was loved by his friends, and he loved them back. He was a wonderful father and grandfather and loved his family wholeheartedly.
A celebration of life in Nat's honor will be held on Saturday, July 1, 2023, at the Lewisburg Elks Country Club from 4-7 p.m.
In lieu of flowers, please send a donation to:
The Moore Family Community Fund
PO Box 1682
Lewisburg, WV 24901
Please send online condolences by visiting www.WallaceandWallaceFH.com.
Wallace & Wallace Funeral Home in Lewisburg is in charge of arrangements.