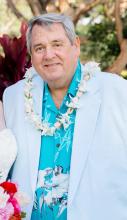 Michael Staten, 73, passed away unexpectedly in Mobile, Alabama on September 2, 2021. He was preceded in death by his parents, Richard H. and Carol Staten and his brothers, Richard H. Staten, Jr. and Stanley Staten.
Mike is survived by his loving wife of 39 years, Barbara, daughter, Keli Staten, and her husband, Jeff Palilieo, of Edmunds, Washington. He also leaves behind his sister, Stuart Ann Hanna, of White Sulphur Springs, West Virginia, and 8 wonderful nephews: Rand, Chris, Matthew, Paul, Andrew, Justin, and Quinn Hanna, and Phillip Staten and their families. Mike also leaves lifelong childhood, summer camp friends, tennis partners, golfing mates, co-workers, and contractor friends.
Mike grew up in Lewisburg, West Virginia. He attended Greenbrier Military School, and graduated as a Post Grad in '66. He spent his summers on the Greenbrier River at Camp Shaw-Mi-Del-Eca, in Caldwell, West Virginia. His father was a GMS instructor and later the camp director.
Mike graduated from West Virginia University with a degree in Landscape Architecture. He had a 35-year career with the United States Army Corps of Engineers.
In 2008, Mike received an organ transplant and was able to enjoy good health, family, friends, and retirement the 13 years since. He was a quiet fellow with a wonderful sense of humor, and a zest for life. Every day since his transplant was a blessing gifted by God and organ donation.
A celebration of his life memorial service is planned for the spring of 2022 at the West Virginia School of Osteopathic Medicine Sharp Alumni Center in Lewisburg, West Virginia.