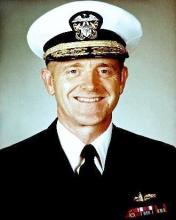 https://www.legacy.com/us/obituaries/washingtontimes/name/john-parker-obituary?pid=199502263&fbclid=IwAR1VfOixT5_jmR6wS6Xx2R3Z7TMTwWQ7SKHYV2tEeLtqPKRxwyU4VNZ8fa8
Parker, John Theodore Vice Admiral, U.S. Navy (Ret.) Vice Admiral John Theodore Parker, United States Navy, (Ret.), age 89, died peacefully due to heart failure in the early evening of June 25, 2021. A native of Wheelwright, Kentucky, "Ted" was studying engineering at the Univ. of Cincinnati in 1951 when he was surprised by an invitation to apply to the US Naval Academy. He was accepted, and from that time on, saltwater began to run in his Appalachian veins.
Possessed of keen intelligence and a dry (and sometimes corny) sense of humor, Ted was accused by his classmates of "learning by osmosis: place book on desk, place feet on book, lean back and grow wise." And yet as a Midshipman, he commanded the 19th Company, the 5 th Battalion, and was Captain of the Fencing Team, winning All-American honors. He graduated, was commissioned as an Ensign, and got married in June of 1955.
During his active-duty years, Adm. Parker served on a number of ships, commanding three: USS St Clair County (LST-1096), USS Macdonough (DLG-8) and USS Piedmont (AD-17). He and his family moved innumerable times, from coast to coast and eventually overseas, where he served as Chief of Staff for the commander of the 6th Fleet. Several assignments involved him in the development of shipboard weapons systems. In 1978 he was assigned to lead the analytical effort to define the characteristics required in a new class of destroyers; this work led to design and construction of the Arleigh Burke class destroyers, which are still in service in large numbers. He regarded this analytical work as his most significant contribution to the Navy. He attended Nuclear Power School, and participated in the Navy's initial efforts in defense against ballistic missiles.
He earned a Master's degree in Public Administration from GWU, and is a distinguished graduate of the Industrial College of the Armed Forces. As a flag officer, he commanded Service Group TWO in the Atlantic, served as special assistant to the Assistant Secretary of the Navy for Research, Development, Test and Evaluation, commanded the Operational Test and Evaluation Force, and in his final tour, Directed the Defense Nuclear Agency, reorienting that agency to the post-Cold War environment.
Along the way, three children showed up, delighting their parents, and eventually grandchildren were welcomed into the fold. In his free time, Ted greatly enjoyed playing the piano, with and without the assistance of his progeny, singing and harmonizing in his pleasing baritone. He always found great joy in teasing his beloved wife, and in simply spending time with his family. After retiring from active duty in 1989, he formed his own consulting company, serving as a director on several corporate boards, including Elbit Systems of America (whose contributions to the military defense of this country are substantial) and the Severn Leadership Group (SLG). Ted was a founding board member who ensured, with others, SLG's focus on developing leaders of character committed to serving others before self. With his USNA Class of '55 cohort, he coordinated and presented two major gifts to the Naval Academy: the restoration of the crypt of John Paul Jones, and a large mural representing the Cold War.
A life-long follower of Jesus, he chaired the administrative board at Calvary United Methodist Church in Arlington, VA for several years. In retirement, while residing in Annapolis, he and Mrs. Parker have been very active in the Naval Academy Chapel. He served as Chair of the Protestant Chapel Council and taught Plebe Sunday School for several years. He also organized the Chapel ministries that provide briefings about the Chapel for visitors, as well as video recordings of services for shut-ins and other requester's. His work with SLG and active mentorship of many participants reflected his deep faith, remaining a particular interest and passion until his death. In a final act of self-giving, he donated his body to the University of MD School of Medicine.
He is survived by his wife of 66 years, the former H. Anne Solomons, daughter Leigh Anne Butterbrodt of Kenosha, WI; son John Theodore Parker III and daughter-in-law Carol-Ann Parker of Leonardtown, MD; daughter Emily Slough and son-in-law Stephen Slough of N. Springfield, VA; and three of his four grandchildren: Kathryn Parker Hutzel and Eric Hutzel, John Theodore Parker IV and Megan Dotson, and Sarah Slough. His sister, Ann "Rooney" Cappellari, of Huntington WV, also survives her brother.
A memorial service will be held on August 2 at 2pm at the US Naval Academy Chapel (enter at Gate 8), with private inurnment to follow at a later date. In lieu of flowers, memorial contributions may be sent to The Severn Leadership Group, a non-profit focused on developing leaders of character committed to serving others before self. Donate online at https://severnleadership.org/donate/ or mail to 504 Tremont Circle, Annapolis, MD 21409. Please sign the Guestbook at www.legacy.com/washingtontimes
To plant trees in memory, please visit our Sympathy Store.
Published by Washington Times from Jul. 20 to Jul. 23, 2021.