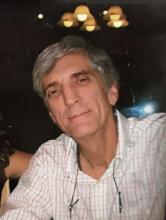 John Rex White
May 4, 1946 – March 21, 2023
John Rex White was born on May 4, 1946, in a Washington D.C. Naval hospital to parents Ruth Barnett White and Howard Hall White and brother Kyle White. Howard was in the Navy and the family moved a lot before they put down roots during Rex's elementary school years in Emmaus, Pennsylvania, where they had a farmhouse and were surrounded by Pennsylvania Dutch culture.
Howard was a leader in the meat packing industry and helped set USDA grading standards, while Ruth was an active community leader advocating for women's rights from the 1920s to her passing. Ruth loved her family and enjoyed giving to her community through service and raising collies. Rex participated in 4H and Kyle played football. They enjoyed their years and made many lifelong friends in Emmaus.
For high school Rex attended Greenbrier Military School in Lewisburg, West Virginia and graduated in 1965. He then briefly attended Hillsdale College and transferred to California College of Arts and Crafts (CCAC) in Oakland. While at CCAC, he met Wendy Marcus. They shared talent and interest in creative art styles. In 1968, Rex and Wendy married, and both graduated with bachelor degrees in fine arts.
Following college, Rex and Wendy drove a Saab and camped through Mexico and Central America, including Guatemala and Costa Rica. Upon their return to California, with their friend Frank Carson, they traveled to the remote fishing village of Shelter Cove in Humboldt County and bought land.
In 1972 their son Praj Olam Ananda White was born at the Garberville Hospital with help from Dr. Jerold Phelps. That same year they began construction of their home, a geodesic dome inspired by Buckminster Fuller, that became known as the "Dome". Several years later, the Dome was a real functioning home and work of art.
Rex's brother, Kyle, died just after Praj was born. Kyle was a natural leader, worked as an attorney for the Black Panthers, and likely would have entered politics to continue his activism but cancer took him early at age 31. Kyle has been greatly missed. Praj attended the funeral as a baby and carries many of Kyle's charming qualities.
In 1973, the Big Finley Creek Fire burned from Whitethorn all the way to the ocean. Only a rope hanging in the Dome burned, and the undamaged Dome was spared. In the post-burn landscape, they stayed in a nearby cabin where their daughter, Adona Celeste White, was born in 1975 with attendance from midwife Kate Lanigan; Dr. Bill Hunter arrived soon after. Adona has become a community leader carrying forward her mothers and grandmothers' charisma. Rex and Wendy continued to build the Dome and pioneered a homestead.
Rex fished commercially to support the lifestyle he and Wendy created. Rex was part of the mosquito fleet that fished primarily out of Shelter Cove, Fort Bragg, and Eureka. Fishing for salmon, Albacore, and rock fish on several boats, including the Hooker.
Rex and Wendy separated in 1982, with the kids attending Jacoby Creek School in Arcata and spending summers and weekends with Rex at the Dome. Rex played music with friends and neighbors weekly and was lead singer and guitarist with a local band called the Repercussions.
In 1984, Rex met Nella Coker and in 1986 they were married and lived together in Benbow. Nella is a wonderful stepmother to the kids, who both started their working years at the Benbow Inn dining room at age 14. In 1995 Rex and Nella founded the first internet service in Southern Humboldt, ASIS Internet, where they served the community for many years. In 2003, their Benbow house burned down, and Rex's father Howard passed away two weeks later. With the help of Praj and son-in-law David Walsh, Rex and Nella rebuild their home. In 2005, Rex and Nella separated.
Rex spent the next few years caring for his mother Ruth in Eureka and West Virginia. In 2012, Rex returned to Humboldt County and lived in McKinleyville, where he enjoyed his grandchildren, church, playing music, and painting, while struggling with declining health.
In 2022, Rex moved to a cottage in Redway and continued to play music with the Repercussions and to paint, finding new techniques and forms of creative expression. He enjoyed the warm sun and warm fires.
Rex passed away on March 21, 2023, on the spring equinox and the new moon, at his daughter's home. Wendy passed away just 36 hours later.
Throughout his life, Rex was active in eclectic spiritual practices including, Hippy, Vedanta, Tantric Yoga, Qi Gong, redwoods Monastery and the Episcopal Church. Rex was an active member of his community and offered his services readily. Rex was a longtime supporter of community non-profits including KMUD and the Mateel Community Center. Rex served as a videographer and video archivist for decades including local theater and music events, including the long running events Jazz on the Lake and Reggae on the River.
Rex was always creating and innovating. Some of his entrepreneurial pursuits included Video Now, the Repercussions, Almondio, Pacific Standard Lumber, Access Solutions Information Services (ASIS), Natural Video in Production (NVIP), Rextracts Magic, and Rex White Gallery.
Rex was a snappy dresser and was happy to see people he knew and happy to meet new people. He made every effort to participate in the party. He was energetic and charming. Long and lanky, he was full of humor and showmanship. Rex shared himself generously and exuberantly with his family, friends, and community. Rex was an activist for the Earth and liberty. Rex was a poet, a musician, and an artist. Rex was ever exploring and philosophizing. He loved deeply and wholly.
Rex will be missed. Rex is survived by his son Praj White, daughter in-law Alisa White, and his grandchildren Logan Kyle White and Isabella Rose White, his daughter Adona White, son in-law David Walsh and granddaughter Vida Sacha Rayne Walsh, and former wife Nella White, as well as a few first cousins.