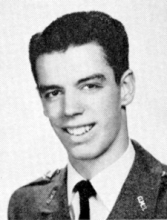 Harry Michael "Mike" Farrell, 79, of Mt. Washington, KY, passed away on Tuesday, August 10th, 2021.


Mike was born in Waynesburg, Pennsylvania, and raised in Carmichaels, Pennsylvania. He retired as an Industrial Arts Teacher from the Montgomery County Public School System in Rockville, Maryland, where he was also a wrestling coach for 35 years. 


Mike belonged to the Louisville Pontiac Club and KYANA. He was an avid woodworker, as well as a car enthusiast.


He was preceded in death by his parents, Harry Howard Farrell and Mary Louise (Smith) Farrell.

He is survived by his loving wife of 50 years, Margi (Machell) Farrell; his son, Brad Farrell (Shawn Potts), and his grandchildren, Teagan Farrell and Paddy Farrell.
A note from Margi Farrell: (note edited for privacy)
It is with a heavy heart that I write this note. Mike, Harry Michael Farrell, passed
away suddenly a year ago.
Mike was so proud that he attended Greenbrier Military School during his early years. He was a successful schoolteacher for the Montgomery County School System in Gaithersburg, MD for 32 years as an Industrial Arts teacher. He retired in 1998.
He coached wrestling for the same county for 35 years (he continued to help with his team even after he retired). He was a car enthusiast. He owned 3 Corvettes, restored a Model A Ford, and a GTO over the years. He belonged to Car Clubs in both Maryland and Kentucky. He could talk for hours with his friends about the cars. He loved to travel. One of his fondest memories was our trip to Ireland with the entire family in 2018.
We retired to Louisville, KY in 2009. … We had 12 great
years in KY. I only wish we had more years together. We celebrated 50 years of
marriage.
Respectfully,
Margi Farrell