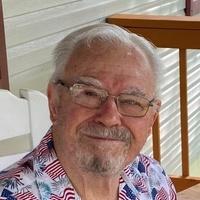 H.K.'S OBITUARY
H. K. Smith, 86, of Parkersburg passed away Tuesday August 1, 2023 at the Eagle Pointe Healthcare Center. He was born September 15, 1936 in Marietta, OH, a son of the late Harold and Evelyn (Smith) Smith.
H.K. graduated from Parkersburg High School in 1955, where he ran track and was a running back on the football team. After graduation, he went to the Greenbrier Military Academy, in Lewisburg, WV, attended Marshall University and then served his country in the United States Army. H.K. worked for Amax Specialty Metal Company in Washington, WV, was a former Wood County Clerk, manager of the American Legion Post #15 of Parkersburg, and was part of the PHS Chain Gang for over 40 years. He enjoyed golfing and was active with the Parkersburg Lions Club.
He is survived by his wife, Janet Cozart Smith; two sons, Terry Smith (Pam) of Williamstown, Riker Smith (Yuri) of Parkersburg; one brother, Allan Johnson of Johnson City, TN; one sister-in-law, Joy Smith of Belpre; four grandchildren, Shane Smith, Brooke Cooper, Kiko Smith, Yume Smith; three great-grandchildren, Palmer, Cameron, Arlo; and several nieces and nephews.
In addition to his parents, H.K. was preceded in death by two sisters, Diana Sue, Sheila Rae, and one brother Phil.
In lieu of flowers memorials may be made to the Belpre Church of Christ Food Pantry 2392 Washington Blvd. Belpre, OH 45714.
The family would like to thank the doctors and staff at Camden Clark Medical Center, Housecalls Hospice and the staff at Eagle Pointe Healthcare Center for their love and care.
To plant Memorial Trees in memory of H.K. Smith, please visit our Sympathy Store.