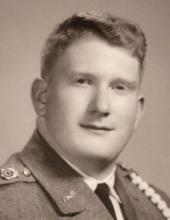 George William Craft II, age 76, of York, PA, previously of Mechanicsburg, peacefully passed away on Tuesday, June 6, 2023 after an extended illness. Born February 8, 1947 in Bluefield, West Virginia, son of Thomas Alfred & Frances (Garwood) Craft.
He was a proud alum of Greenbrier Military School, whose motto of truth, duty, and honor he embodied. George served with that same truth, duty, and honor in the US Army during the Vietnam War, based in Ft. Lee, Virginia. He studied at West Virginia State University and settled into a long, fruitful career with the US Navy in the Fleet Materials Support Office as a Systems Analyst. His colleagues found his humor, sharp thinking, and enthusiasm for moving projects forward to be a great asset. He loved his family and friends fiercely with a truth, duty, honor, and humor that was felt by all.
He leaves behind his loving partner of 13 years, Eileen Chindblom of York, PA; his daughter Sara Concini (Michael) of Cary, NC; his son Alexander Craft; and the mother of his children, Kathie (Eavis) Craft. Additionally, he leaves behind his two grandchildren, Rachael and Benjamin Concini; and his sons by relationship, Carl Chindblom (Allyson) and Michael Chindblom (daughter Lizzie). He is survived by his siblings, Ann Marie Schafter and Donald (Monique) Craft and many nieces and nephews.
He was preceded in death by his parents, his beloved brother, Charles T. Craft, his dear friend and brother-in-law, Lawrence J. Schafter.
A celebration of life will be held at a later date; more details to follow.
In lieu of flowers, memorial contributions may be made to Hospice of Central PA or any Army Veterans Association of your choice.
https://www.tributearchive.com/obituaries/28148819/george-william-craft-ii