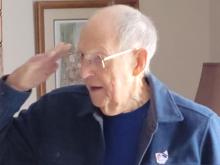 Edward Walter Gallaher, Sr. passed away on Thursday, 23 June 2022, at the age of 90. He was pre-deceased by his wife of 64 years, Jackie Lou (Newell) Gallaher, in March of 2019. Ed is survived by:
His Daughter in law, Dawn Keyes Gallaher. Ed's son, Edward W. Gallaher, Jr., pre-deceased her.
His Daughter, Kathy Lynn (Gallaher) Loyd, Kathy's husband Eddie Joe Loyd, granddaughter Kacy Lynn Loyd, her husband Josh Jackson, their children, 2 of Ed's 7 great grandchildren, Kaylie Marie Jackson and Karma Nykole Jackson;
His Son, Thomas A. (Tag) Gallaher, his wife, Barbara Jeanne (Jeannie) (Oulla) Gallaher, Granddaughter Caroline Marie Gallaher and her children, 2 of Ed's Great grandchildren, Jude Adrienne Gallaher and Caleb Avery Gallaher and Granddaughter Stephani Nicole (Gallaher) Digweed, her husband Jonathan Alan Digweed, and their children, the other three of Ed's 7 great grandchildren, Alexander Michael Digweed, Sophia Gabrielle Digweed and Aurianna Raphaelle Digweed;
His Brother in law, Dr. Donald Clifford (Doc) Newell, Jr., his wife Darlene L Newell, and their children (Ed's nephews) Dr. Ryan Newell (Wife Lisa, children Tucker, Trent, Ella & Owen) and Lee Newell (wife Dawn, son Tommy). And his Niece Mary Beth Gallaher.
Parts of Ed's story follow -
Ed was born 4/22/1932 in Chillicothe, OH, to Clarence Augustus (1894-1960) & Bessie Novina (nee Walde) Gallaher (1899-1992). He had an older brother, Charles (Uncle Charlie to us kids, but always Charles to Ed) and an older sister, Dorothy June, who passed away from polio as a child. Ed grew up in Chillicothe, OH and Williamsport, OH (which is about 30 minutes up the road (and the Scioto River) from Chillicothe). Ed's Dad, Clarence, a WWI veteran from the Field Artillery (horse drawn) ran a lumberyard and hardware operation – We're told Ed had the 'fanciest bicycle in town' as they sold them at the hardware store. Ed fell out of a tree at 10 years old and broke both arms… he had to have another kid at school help him in the bathroom! And we've heard stories about how, during WWII when there were strict requirements to haul trucks full both directions, Grandpa Gallaher (Clarence) learned how to manage if there simply wasn't a load for the return, deflating the tires a bit and using a canvas to make the truck look fully loaded! Clarence completed through 7th grade, per the 1940 census https://www.ancestry.com/imag… and Bessie 4th grade. But neither their success nor their bearing would have indicated this as a hindrance - ask those of us who knew Ed's mom, Bessie (Bessie passed in 1992, at age 93)!
As a teen, Ed was greatly impressed by the events of WWII. At 13, he was the first in Chillicothe to win the Eisenhower award for wastepaper collection – he was a Tenderfoot Scout at Walnut Street Methodist Church in Chillicothe. He collected 1,489 pounds of waste paper in 2 weeks, gathering most of it in a pushcart and getting help from his Dad to truck it to a collection center. Ed's big brother, Charles, was serving in the Pacific, where he was a corpsman on a hospital ship. When Charles returned, Clarence sent both Ed and Charles for a summer-long trip by car across the United States and up to the Northwest. Great wisdom to help both boys prepare for the next phase of their lives.
Ed attended Greenbrier Military School in Lewisburg, WV for the last few years of his high school education and as well as freshman college courses. Looking back, Ed has been so appreciative of how his Mom and Dad sacrificed financially to give him that opportunity for a better education and even send him later to Georgia Tech. Greenbrier Military School gave Ed great discipline as well as education. Although, to be fair, there are stories of dropping cherry bombs into toilets at GA Tech. Ed recalled working hard to avoid walking the beat at GMS (a punishment of walking the courtyard for infractions) and how the schoolmaster of the time believed that fresh air prevented disease and he required windows in every dorm room to be cracked open even in the dead of winter. Greenbrier College for Women (GWC) was across the street from Old Stone Presbyterian Church, where the cadets would march to worship Sunday nights. There is more to that story later! Ed recalled how they would march in their dress wool uniforms for church every Sunday evening and all file up into the balcony, sometimes frozen, sometimes steaming hot, sometimes soaking wet.
Ed went to GA Tech in 1951 and started classes there (in Atlanta, GA). One day, a good friend of his and former roommate from Greenbrier, Bill Trazzo, called Ed and said, of a young lady from Greenbrier College for Women, "Ed, you've got to meet this girl, you just have to meet this girl!" Bill and 'this girl' had become good friends while she was attending GWC. Ed came back to Greenbrier in 1953 to attend Bill's graduation and there on the lawn at a 'party house' in Lewisburg, was Jackie Lou Newell. Ed came up to her, in all sincerity said, "I have been dying to meet you", and began immediately to work on wooing her.
Ed began to write to Jackie and she wrote back, although she teased him often about his "line" when he first met her! They were married on June 14th, 1954 at St. Andrews Episcopal Church in Oak Hill WV, on a blazing hot day. Ed remembers that for both young lovers, it seemed like a very long ceremony, as they kneeled, with sweat dripping off their noses and chins. They thought they'd hidden their car successfully at a friend's garage but some of Ed's groomsmen from Ga Tech broke in the garage, removing a few boards. When Ed got in the car with his Bride Jackie and started it, it wouldn't go anywhere… the boys had jacked it up on blocks about an inch off of the ground. By the time they got to Bluefield, the Roquefort cheese the boys had smeared on the engine block was very fragrant. The first night of their honeymoon was in Kingsport, TN.
Ed and Jackie lived in Decatur GA while Ed finished his Bachelors in Industrial Engineering and Jackie taught 1st grade at Forrest Park Elementary. The tiny apartment was great for newlyweds as one had to squeeze by another when going from one end of the kitchen to the next. Ants enjoyed the top of their wedding cake, which they'd thought they would save! Things apparently went well as Edward W. Gallaher Jr. was born May the 4th, 1955.
Ed Sr. finished his degree and joined the Army. For a bit, Ed and Jackie (and little Ed) lived in a tiny apartment at 2-Notch Road in Columbia, SC, while Ed did Basic and Advanced Individual Training at Fort Jackson. "Oh, those sand hills!" Then he was stationed for his first duty station as a 1 year hardship tour in Iceland. As a hardship, family travel and base housing are not an option. Upon arrival, Ed was picked out by a sergeant there to help him in the training center, which just happened to include a movie theater with the only CinemaScope lens on the entire island of Iceland and did films for entertainment as well as training. Near Christmas day, 1955 – Ed sent tickets and Jackie and little Ed flew on a DC3 to be with him in Iceland. Back then, the flight was non-pressurized with no Oxygen so they flew the entire way no higher than 10,000 feet. Jackie often said, "If he wasn't there when I got there, I was not going to get off of that plane." Well, Ed was there! He had earned enough for the tickets by selling popcorn and candy at the base concession/movie theater. The training area also had a shower, which was handy since Ed and Jackie (and little Ed) shared a single room in a house off base and shared a half-bath with 4 other tenants! So the shower at the 'moomie' house, as little Ed called it, was a blessing.
After a year in Iceland, Ed & Jackie returned to the Atlanta area (Brookline Drive) where Ed finished his second degree – a BS in Industrial Management – From Georgia Tech. Jackie answered an ad from a window downtown looking for a receptionist/typist – and she nailed the job, working for Otto the Orkin Man https://www.youtube.com/watch… (yes, the real, original Otto). There was a sign also for a garage apartment for rent in a florist's shop. There they lived, blessed by the kindness of the owners of the shop. When Ed graduated in 1959, he got a job with Mead Paper Company and Jackie and he moved to Chillicothe OH, bought a house in the Chillicothe Manor and had Kathy Lynn Gallaher (Loyd) and Thomas A. (Tag) Gallaher in 1959 and 1960, respectively. While Ed was working for Mead, Jackie was teaching school (head start classes). The family stayed in that area for about 6 years, including their last year or two at a home on Graves Road, including a pond, a stable and an ornery pony named Dusty (a gift from the family doctor). This time included great visits with Ed's first cousin, James Gallaher (Uncle Jimmy) and his wife, Posie. They had three kids roughly the same age as Ed & Jackie's, so summer visits spent on their farm were lovely. The kids all have memories of playing in the pond with a (usually submerged) canoe. Uncle Jimmy would sometimes shout "Buddy Check" and each kid had to be paired up hand in hand with their swimming buddy before he'd count to five! Also in the manor, Ed & Jackie's across-the-street neighbors, Nancy and Bill Bogan, had kids with ages similar to theirs, so a great friendship was born there as well. It should be noted that it was here that Ed & Jackie got their first of several Dalmatian dogs, named Chief. Chief and little Ed were close companions but Chief was also a bit of a rogue, sometimes creating brand new breeds of dogs, including the Dollies down the street (seemed a better name than Collations – a Collie/Dalmatian mix).
In 1967, Ed landed a job with Bergstrom Paper Company and the family moved up to Neenah, Wisconsin, staying there from 1967-1972. Here Ed and Jackie became good friends with Jean and Cecil Hess. Ed and Cecil worked together at Bergstrom and Jackie and Jean worked together with adults with severe mental and developmental challenges. Ed and Jackie remained friends with Jean and Cecil throughout their lives. Ed supported Jackie enthusiastically during this time as she finished her BS in English at the University of WI, Oshkosh (while raising 2 grade school children and one high school child!). Here, also, Ed & Jackie became ardent Green Bay Packers fans (and Jackie was one of their most vocal cheerers through the rest of her life)! Those were the days of Bart Star, Fuzzy Thurston, Ray Nitschke and other heroes of old.
Throughout the early years, Ed and Jackie always did family vacations – carrying their family across the US in various Dodge Station Wagons and even a pop-up camper for one memorable trip. In addition, frequent visits to see family in Oak Hill WV, and many a summer enjoying long warm days on Summersville Lake, WV, which Jackie & the kids dearly loved. Ed wasn't a big fan of swimming but he would spend summer after summer on the water and would tow his kids skiing behind the boat for hours. When he was tired of towing, he would start going around in circles to make big waves and finally shake his kids off the line, a challenge that they loved!
During those early years, Ed always would save his per diem while he travelled on business, eating on the cheap, so that he'd have enough money when he returned to hire a baby-sitter and take his bride out for a date. And he reminded us about the importance of taking care of one's love. Ed travelled a great deal with work and remembered when the O'hare Airport was just a few Quonset huts! He was also one of the first 'million milers' with Delta and would tell future generations with a gleam in his eye, "Back when I was flying all the time you actually had to fly a million miles to get that award!"
In 1972, Bergstrom tasked Ed with taking over management of a paper plant in West Carrollton (Dayton) OH, and the family moved briefly to West Carrollton and then to Oakwood, on the south end of Dayton, OH. Ed said that Bergstrom's purchase of the plant was a terrible mistake as the plant's machines were too large and fast to run on a high percentage of waste paper (recycled paper, which was Bergstrom's niche). Bergstrom needed pulp, which Kimberly Clark had but Bergstrom didn't! There were other challenges there including a wild-cat strike during his first year there.
Ed and Jackie became friends with William and Helen LeMay, who they met through the Oakwood United Methodist Church, where both families worshiped. In time, William enticed Ed to join him at Baxter Travenol and Ed learned the business of manufacturing Vinyl & Latex examination gloves (as well as the bodies for Stretch Armstrong!). By 1978, Ed and Jackie had put together a plan to start their own company called Phoenix Glove Company, pooling their life savings, building a business plan and, a few days before Tag headed off to his first year of college, they headed to South Carolina to start their company!
Ed was friends also with Arthur Parsons, a local banker in Andrews, SC, who became a mentor in finance and made many important introductions for Ed. He and his wife, 'Becca, lived diagonal from Ed and Jackie and were good friends through the years. In Andrews, Ed and Jackie built their dream house and called it Rivendell. They became part of the heart and soul of the community in Andrews and of their local church, Trinity United Methodist. I know they were blessed by too many good friends to mention and I believe they blessed the community as well.
Ed and Jackie lived just under 4 decades in Andrews, from 1978 to 2016. They were very involved with the community and the company Ed started thrived, employing some 600 people at one point! More than a few folks have thanked "Mr. Ed" and "Ms. Jackie" for the opportunities that Phoenix offered and the great work ethic and habits that most employees developed in that environment. Jackie stayed involved with the local library and she and Ed both partnered with "Andrews Good 'Ol Days", and were key in convincing Chubby Checker to come to Andrews for many a year for this town-wide fund raiser for the library association.
During this time they lived a grand, joyous life!
They travelled broadly, including Asia, Australia and Europe, settling eventually into an annual trip to France where they would split their time between visiting good friends, the Binners and Cotins, in Ammerschwihr in the Alsace and spending time at Hotel Du Casino, at the west end of Omaha Beach in Normandy. Ed and Jackie tended to create lasting friendships wherever they went and these friendships often echoed throughout the family. In Hamburg Germany, they befriended Lucas & Uli Garabet who remained friends through the years and hosted son Tag and his wife, Jeannie, for a visit and dinner when they were in the country in 2015. Similarly, their relationship with the Binners has translated now into 3 generations, with various family members visiting the US and France and staying in touch frequently. And in Omaha Beach, where Ed and Jackie stayed every year for some 30 years, they became close friends of the proprietors of Hotel Du Casino, Mr. & Mrs. Clemencons, including their now grown Daughter, Julia and her husband. They also brought 3 additional generations of their own family to France and especially to Normandy – visiting battle sites, telling stories, walking the vast beach, attending retreat at the Military Cemetery at Colville Sur Mer and ensuring these generations, too, shall never forget.
Speaking of lasting friendships, Ed & Jackie's friendship with Cecil & Jean Hess lasted well beyond the Wisconsin days and Bergstrom Paper. When Jean and Cecil moved to the then-rural east side of Atlanta and started a Christmas Tree Farm, Hess Tree Farm, Ed and Jackie were right there to help and started yet another family tradition. Large parts of the Gallaher family would come to the Hess Tree farm for Thanksgiving and help kick off the Christmas Tree selling season there. Amid much garland making, tree shaking, hay riding, tree wrapping and loading, wreath making and decorating, was an abundance of laughing, eating, drinking, storytelling and enjoying each other's company!
Ed and Jackie also made it a point to spend time with their young granddaughters, even though they didn't live nearby. Just like his professional investment in people, his financial investment in his company, his heartfelt investment of time and giving at Trinity UMC, his and Jackie's intentional investment of time with their granddaughters was also a gift and also brought dividends of love. We have many pictures of Ed and Jackie with their granddaughters, playing in the playhouse or joggling on the joggling board.
With even more love to share, they had 2 Rotary International exchange students join their homes over 2 years, but those relationships also lasted even to now – Hugo Miura, from Brazil and Verona Meier from Germany. Hugo was very involved in the music program at Trinity and has been back to the US twice to visit Ed & Jackie (and the rest of us). Verona remembers Ed's patience as he was teaching her how to drive in the US – and Ed remembered having to teach Verona a few alternative "choice words" for use in a small town in South Carolina! Verona and Hugo are both part of an ongoing, fun conversation with the entire Gallaher family.
Ed's last decade was focused almost entirely on taking care of Jackie as he walked her home along that long, arduous path of Alzheimer's disease. This included a move from Andrews back to Dayton, OH, in 2016 to be closer to family. Ed loved his wife more than anything else on this earth and taught us all a great deal about standing by your loved one. In her last days, he said to her "Jackie, I've been thinking about it and I just can't think of anything that we wanted to do together and didn't do." And he was there holding her hand and sleeping by her side each night as the end drew near. Ed continued on this earthly plane for 3 years and a 3 months after Jackie died. He said "Well, it's what Jackie would expect of me". But his life was just not the same without her. In September 2021, he enjoyed a "Last Trip" to Hotel Du Casino in Normandy where he and Jackie had visited so often, this time with Kathy and Tag.
Ed fell in early June and spent nearly 2 weeks in Hospice in Dayton OH. Those 2 weeks gave time for family to spend time with him and say good-bye. Even in dying, Ed continued to teach us, living his life as an example. He taught us to be bold and unwavering in what matters the most. He taught us to have absolute faith. He had no fear of death – not even at the end – but wholly trusted the promise of eternal life through his faith in Jesus Christ.
For those of us left behind, we will miss him. Yet his life is something to remember and celebrate and we know that he's where he really wanted to be – In heaven, dancing with Jackie and praising Jesus and the Father, filled with the Holy Spirit.