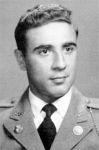 Dr. Fred Abraham, 91, of Huntington, passed away on Friday, February 18, 2022, at St. Mary's Hospital. Fred was born on December 29, 1930 in Damascus, Syria to the late Isaac and Salome Abraham. He and his family moved to WV in 1938, sailing from France to Ellis Island, NY on the Normandy. He was a dentist in the Huntington area for over 45 years.
Fred attended the Greenbrier Military Academy and Pittsburgh University for both undergraduate and dental school. He served in the Air Force as a Captain from 1956 to 1960. After his discharge, he moved to Huntington to open his dental practice, where he met his wife of 57 years, Justine Abraham, when she applied to work in his office. They fell in love and married shortly thereafter.
He was a devoted husband, father and loving brother, uncle and grandfather. Fred was deeply religious, a studier of theology, philosophy, history and politics. He was an avid walker, golfer and die-hard Steelers fan. He was a life-long member of St. John's Episcopal Church and later became a member of St. Joseph Catholic Church. He founded the Guyan National Bank in Barboursville in the early 1970's and served as Chairman of the Board.
Fred is survived by three daughters, Amy Abraham of Miami, FL, Rebecca Sothen of Huntington, WV, and Sarah Daley of Louisville, KY; six grandchildren, Jacob and Madison Abraham, Joseph May and Thurman Hinkle, Luke and Katherine Daley; and two siblings, Dr. Nazem Abraham and Dr. Charles Abraham of Huntington, WV. Funeral Liturgy will be held 11 a.m Wednesday, Feb. 23, 2022 at St. Joseph Catholic Church by Monsignor Dean Borgmeyer. Interment will follow in Woodmere Memorial Park. Klingel-Carpenter is in charge of arrangements. In lieu of flowers, please make a donation to your favorite charity.