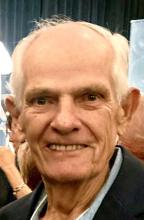 Donald "Don" Richmond age 86, passed away peacefully on July 2, 2023 at his home in Nokomis Florida.
Born in New Jersey to Howard and Leona Richmond he was the youngest of three sons. The family moved several times during his youth. Some of Don's fondest memories were of his childhood in West Virginia. The family eventually made their way to Ohio.
Don was a Cadet at the Greenbrier Military School in Lewisburg West Virginia (Class of 52) and went on to be a member of the Unites States Navy. Don also attended the University of Toledo, and The Ohio State University.
After school Don began a career in retail management where he was best known as "Mr. Richmond". During his 30 plus year career with a S.S. Kresge and Value City Department stores he relocated many times around the Midwest.
Don's first wife Beverly passed after a long illness, subsequently he met Mary Lou. They married in the early 1990's relocating from Northeast Ohio to the Kings Gate Club community in Nokomis Florida. Don loved being involved in the Kings Gate Community and its many activities. Don and Mary Lou spent many years as the travel directors at Kings Gate, travelling all over the world making beautiful memories not just for themselves but their many close friends.
Don is survived by his wife Mary Lou. His Children; Mark Richmond (Beth), Timothy Richmond, Marianne Richmond Mathies, Eddie Lehman, Debbie Sopko (Ed), 11 Grandchildren, and 7 Great Grandchildren.
Don was preceded in death by his first wife Beverly (Smith) Richmond, his son Dale Richmond and his brothers Howard and Richard
A ceremony and burial will take place at Sarasota National Cemetery in Sarasota, FL at a time to be announced. In lieu of flowers please consider a monetary donation to Tidewell Hospice Tidewell Foundation www.tidewellfoundation.org