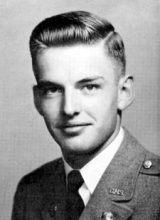 Donald Erwyn Smith, 86, went to be with the Lord on Jan. 5, 2023. Don was the son of Donald A. Smith and Gertrude Harper Smith, brother of Patricia Smith Wilson (Robert Kay), of Marietta, Ohio.
Don loved his sister dearly, and she can tell many stories of him being a typical little brother. He grew up on the banks of the Ohio River in Hartford, where many of his childhood adventures took place. Stories of fishing, racing his boat and "treasure hunting" in the flood waters bring to mind a "real life" Huckleberry Finn. He had a bird dog "Bill" and loved hunting with his dad. Don graduated from Greenbrier Military School in Lewisburg in 1954. He then attended Duke University but had to leave school when his father passed away to run the family business — the Liverpool Salt and Coal company. While he did this, he attended Ohio University and "the" Ohio State University and even found time to be the mayor of Hartford.
In 1961, Don met the love of his life, Linda Huffman and they were married for 60 years. They had two daughters, Ann Smith, of Albemarle, N.C., and Kathy Smith Cool (Thomas), of Ruskin Fla. Don was close to his brother-in-law, Cliff Huffman (Jenny), and sister-in-law, Mary Bobbitt, of Lewisburg. Don graduated a proud West Virginia Mountaineer in 1969 from the WVU School of Dentistry and practiced dentistry in Morgantown from 1969-2011. When he retired, he and Linda moved to Ocala Fla. and later to Apollo Beach, Fla. to be closer to family.
Don loved to hike and backpack in the sun or snow and loved fishing in the river by the family cabin in Moorefield — his "happy place." He loved his WV Mountaineers and almost always had his WV hat on. He was crazy about his girls — Ann, Kathy and his granddaughters Sarah and Kat, who affectionately called him "Poppy." He also loved his nieces and nephews — Debbie Coffman, Jan Eichinger, Beth Wilson, Jim Wilson, Jane Hill, Patrick Huffman, Russell Huffman, Meg Burton and Cam Huffman.
Don loved the Lord and lived by the Golden Rule, treat others as you want to be treated. He was always a gentleman and we will miss his sweet soul and kind ways. We love you Poppy. We ask that in lieu of flowers, you may send a contribution to Lifepath Hospice, 4200 Cypress St., Suite 690, Tampa FL, 33607. They were so kind and helpful during Don's illness. Arrangements are by Sun City Center Funeral Home, 813-634-9900.