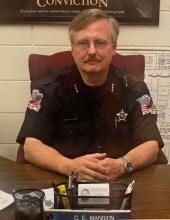 CHUCK MANGION OBITUARY
Charles "Chuck" E. Mangion, 66, passed away on November 9, 2021.
Chuck was born June 17, 1955 in Wyandotte, Michigan to Carmelo and Veda May Pansy (Atchinson) Mangion.
Chuck from a young age until he graduated, attended Greenbriar Military Academy in West Virginia. After that he attended college in Rochester, MI and then moved to Abilene, TX and got an Associate's degree in Criminal Justice from Abilene Christian.
For a bit, he was a Mounted Police officer in Detroit and at one time was even a bodyguard for Mary Kay. Chuck served his country in the United States Army during the Vietnam War.
At some point he then made his way to Chandler, Oklahoma and became very involved in all things civic. He was a police officer for years and was also on the fire department. Chuck also served as the assistant chief of emergency medical services. He was also Lincoln County Deputy Sheriff and also Lincoln County Sheriff for a while.
On May 5, 1990 Chuck married Shelly Brzowski in Chandler, OK. Chuck has always had a servant's heart and absolutely loved being involved in his community. One of his favorite things was being Santa Claus, which he was in Chandler for many years. Chuck was always willing to help anyway who needed it, from simple household things to the big things. There was no greater man than Chuck Mangion, and he will be greatly missed.
Chuck was preceded in death by his parents, Carmelo and Pansy Mangion and sister Janelle Jackson.
Survivors include his wife Shelly Mangion; son Mason Mangion, son Mark Barneche; daughter Megan Smith; granddaughter Sorien Barneche; sister Margaret Mangion, cousin Linda Penn and nephews Michael and John Laur and many extended family and friends.
No services will be held at this time. Online condolences and memories may be shared by visiting www.parksbrothers.net. Care Services are provided by Parks Brothers Funeral Service in Chandler, OK.
To plant a beautiful memorial tree in memory of Chuck Mangion, please visit our Tribute Store or plant a tree.
https://www.legacy.com/us/obituaries/name/chuck-mangion-obituary?id=31527199